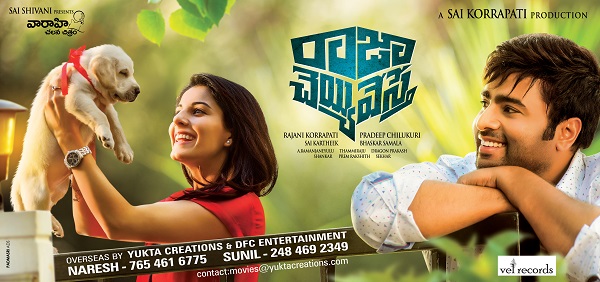 Raja Cheyyi Vesthe Review
8:07 AM : Average movie with superb twists post interval.. First half should have been more engaging.. Tarak is good in his new avatar, very good screen presence.. Pradeep Chilukuri has done a decent job overall.. Rohit should be appreciated for his script selection.
7:50 AM : Climax shot in an interesting way… All victims of Manik helping hero..
7:30 AM : Tarak Ratna's new avatar will establish him in TFI if he chooses to continue these kind of roles.. He must improve his dialogue delivery though
While you wait, look at exclusive article fresh out of press : Bluesky Cinemas to release 'Supreme' overseas
7:25 AM : Raja vows to help to kill Manik… mind games between Raja and Manik..
7:20 AM : Emotional flash back.. Very well shot !
7:10 AM : The complete story behind who's enticing Raja to kill Manik has been revealed.. Superb twist.. Amazing screenplay..
7:05 AM : Very gripping scenes after the interval, Raja is being forced by unknown person to kill Manik
6:55 AM : Hero receives a courier from the director/producer he writes the story for , Very interesting twist in the story.. Interval !
6:50 AM : Production values are good so far, though low budget , doesn't look like one
6:50 AM : Hero emails his love story to the producer/director, Hero gets a response from the director/producer asking for an action story instead of love story.. Hero writes an action thriller for him
Story is very different from routine so far
6:40 AM : Hero proposes to heroine, Time for 3rd song "Raja cheyyi vasthe" title song..
6:35 AM : Hero tries to impress heroine, comedy scenes should have been slightly better
6:30 AM : 45 minutes into the movie.. No direct or indirect conflict between hero and villain established yet
6:25AM : Hero begins writing a love story for a producer,His own love story on screen as story Nice screenplay !
Time for 2nd song… Yevvare nee premaku
6:10 AM: References to NCBN and TDP: Heros friend to another friend abt hero – arey valla pedda nanna ni adugu.. Boledanni cycles istaaru
6:08 AM: Isha Talvar aka Chaitra introduced.. Hero and heroine in the restaurant.. Hero narrating his movie story to heroine… whole restaurant is listening to the story and applaud at the end..Gripping narration so far.
5:59 AM: Nara Rohit aka Raja.. Time for first song..
5:57 AM: Nara Rohit introduced on the bike shot used in posters.. Rohit is a wanna be movie director
Another exclusive to kill time : Dil Raju furious regarding Brahmotsavam nizam rights
5:53 AM: Tarak Ratna aka Manik is a ruthless and notorious professional killer.. Everybody including the police dept knows abt his murders but can't arrest him because nobody dares to be a witness to the crime..
5:40 AM: Tarak Ratna introduced as a middle class man who comes to the vegetable market. He is a professional killer who comes to the market as common man to kill the vegetable market chairman.
While you wait, look at exclusive article fresh out of press : Bluesky Cinemas to release 'Supreme' overseas
5:40 AM: #Show time
Raja Cheyyi Vesthe movie is directed by debutante Pradeep and produced by Sai Korrapati under Varahi Chalana Chitram banner.Nara Rohit and Isha Talwar are playing the lead roles in the movie. Screenplay of Raja Cheyyi Vesthe, which is based on mind game between Hero & Villain is said to be highlight. Nandamuri Taraka Ratna is playing Villain Role in this film is another highlight.
Debutante director Pradeep Chilukuri's technical brilliance is talk of the town in Tollywood. Heroine Isha Talwar earlier impressed all with her performances and looks in Gunde Jaari Gallantayyinde and Maine Pyar Kiya movies. Sai Karthik has given melodious tunes for the film. Sai Korrapati, known for producing tasteful films,tried his best to make this movie with high quality.  This movie is Nara Rohit's third release in 50 days span,touted in a lighter vein as Nara Vs Nandamuri movie because  Nara Rohit,Taraka Ratna are playing Hero and villain roles respectively.
Telugu360.com as always bringing to you Raja Cheyyi Vesthe Review First on web, Live updates from premier show
Watch this space for Premier show live updates beginning THU 04/28 8 PM CST i.e. 04/29 FRI 6:30 AM IST