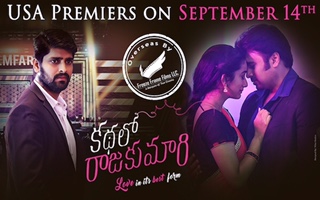 Will "Kathalo Rajakumari" be one of those trend setters that will take the TFI by storm after Sai Pallavi's Fidaa? Will it continue the trend female characters taking the center stage in Telugu cinema finally? If a title is meant to give us a glimpse into the story then this is what must be true.
However, if you saw the trailer, Nara Rohit's character seems to contradict this. He is introduced as "the best villain" and the film seems to be all about him. You get a feeling that is a story of a "spoilt kid" who has it all; drugs, sex (again a new trend?) and reminds us of Arjun Reddy all over again (and rightfully so as the character' name is Arjun).
The Second half of the trailer gives us an entirely different feel; melodious and heartwarmingly smooth. It will be interesting to watch how these two contradicting faces that the director choose to present come together.
Srinivas Avasarala, Naga Shourya and Nara Rohit gave us a heartwarming movie last year, "Jyo Achyutananda" seeing the three together yet again and the tag line "Love in its best form" makes us hopeful of a love story that keeps us hooked on to it. The music definitely reinforces this expectation.
Illayaraja's music is something to look forward to. The song "Manase Thalape Thadutondila" grows on you and the rest of the songs do sound soothing and pleasant to the ear.
Debutant Director Mahesh Surapaneni has done a good job with the cinematography if what is seen in the teaser and trailer is to be believed.
The movie releases this Thursday and it will be once and for all proven it debutants are a risk worth taking to break the monopoly in the industry.
Press release by: Indian Clicks, LLC