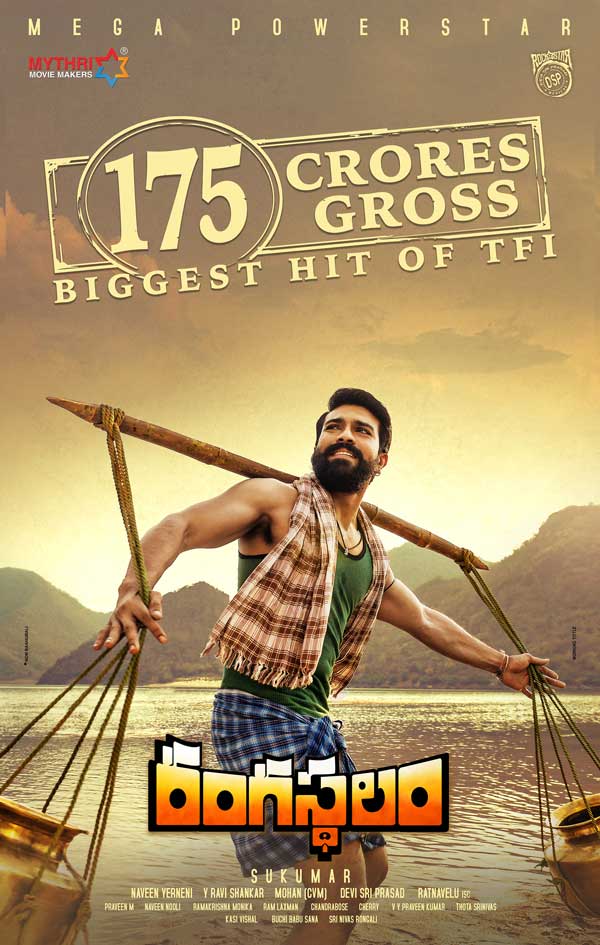 Ram Charan's Rangasthalam is now the third highest grossing Telugu film after Baahubali 2 and Baahubali 1.
The rustic period drama has grossed over 175 Crores at ticket windows and bagged numerous laurels for pushing the envelope of Telugu cinema. Ironically, the deceptive and over-the-top publicity strategies from team Rangasthalam seems to have causing some sort of embarrassment to Telugu film industry.
Today, a new poster announcing that Rangasthalam collected 175 Crores gross has been released by the publicity team of Rangasthalam. Surprisingly, the poster claims Rangasthalam as the biggest hit of Telugu film industry (With a disclaimer in a very small hard to read font)
Isn't it an intentional disregard to Baahubali, which has labelled as the pride of Tollywood by critics across the globe for its monstrous box office success.
It is well known that Baahubali franchise set several milestones at the worldwide box office and made Tollywood a very proud film industry. But, team Rangasthalam seems to have shrugged off the biggest blockbuster of Telugu cinema with its misleading publicity strategies.
It may be noted that the total gross of Rangasthalam is no way near to half of Baahubali franchise.