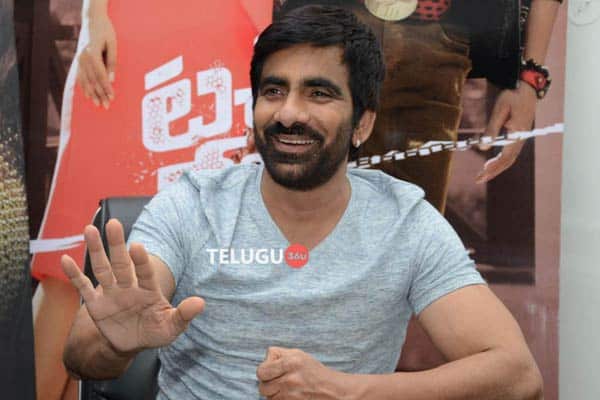 Ravi Teja Touch Chesi Chudu Interview
Mass Raja Ravi Teja is one actor who worked hard and proved his mettle in Tollywood without any support. The actor after a gap of two years made his comeback with Raja the Great and the film has been declared as a blockbuster. Ravi Teja is all set with his next outing Touch Chesi Chudu which showcases the actor as a fearless cop. Vikram Sirikonda is making his directorial debut with the film and Rashi Khanna is the female lead. The film is slated for February 2nd release and here is an exclusive interview of the actor ahead of the film's release:
Hi Ravi Teja:
Hi
What happens if Ravi Teja touches?
Wait till February 2nd to know what happens.
About your expectations on the film?
Me and my team are extremely confident on the film. Waiting for the audience for their decision.
You are playing a cop in the film and audience will remind about your role from Vikramarkudu. What do you say?
Vikramarkudu is a unique film and Touch Chesi Chudu is a completely different film. One thing is Touch Chesi Chudu will never disappoint the audience for sure.
You play dominant roles in your films but we heard that heroines dominate you in Touch Chesi Chudu. What do you say?
Rashi and Seerat got to play prominent roles in the film. While Seerat plays a NRI in the film, Rashi plays a fun going role. They are all set to dominate the film with their performances.
Rashi Khanna sizzled in a song in Raja the Great. Are you the reason for her cameo?
Rashi is a common friend for me and Anil Ravipudi. We felt like having a cameo of Rashi after which she gave her nod for the short role.
How is it working with Vikram Sirikonda, a debutant?
Vikram may be new to direction but he is skilled in all the crafts of cinema. He worked as an associate for VV Vinayak and I have known him right from Mirapakay. Nallamalapu Bujji is a close friend of mine and when Vakkantham Vamsi narrated the script, we finalized Vikram Sirikonda to direct the film. Vikram took his time and tuned the script in his style and directed the film.
You have been doing entertaining roles. Don't you feel challenging doing them?
Entertainment has its own style. Puri Jagannadh is different; Srinu Vaitla has his own while Anil Ravipudi is different.
Are you not interested to leave the formatt of entertainment?
I have done several films leaving entertainment. Na Autograph, Shambo Siva Shambo are some among them. Some of the experiments went wrong.
Did you find any changes in entertaining the audience?
I noticed several changes in films along with the audience who accept them. The audience are now not getting convinced for loud comedy and they prefer straight entertainment.
Any plans of doing multi-starrers?
It is not me who should think of multi-starrers. It is the director, writer who should think of them. I am open to work with any actor and I share a close bonding with every actor of Telugu cinema.
Is your son turning an actor?
He is just ten years old and is concentrated on his studies currently. I am not thinking about his career right now and will leave about it for him.
Srinu Vaitla has been struggling with debacles and you offered him a film. What do you say?
Nobody gives life to anyone in cinema. It is the story that drives everyone. Loved the script of Srinu Vaitla and gave my nod.
Any plans of going to Bollywood?
Baahubali managed to set new standards for Telugu cinema and our market got increased. If approached with a right script, I am ready to do a Hindi film. I am quite proficient in Hindi.
About Kalyan Krishna's film?
The film is a village based romantic entertainer and 25% of the shoot has been wrapped up.
All the best for Touch Chesi Chudu.
Thank you very much.
Telugu360 is always open for the best and bright journalists. If you are interested in full-time or freelance, email us at
Krishna@telugu360.com