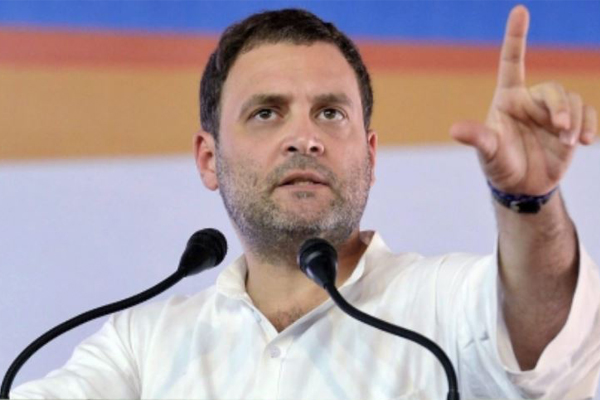 Continuing his attacks on Prime Minister Narendra Modi and Telangana Chief Minister K. Chandrasekhar Rao, Congress President Rahul Gandhi on Tuesday alleged that they were resorting to corruption in the name of 'redesigning'.
He said that redesigning was the new name for corruption. "Modiji is an expert in redesigning at the Centre and your Chief Minister is an expert in redesigning here," Gandhi told a huge public meeting at Saroornagar here.
He said Modi redesigned the Rafael deal to benefit his friend to the tune of Rs 1 lakh crore while Rao had redesigned irrigation projects so that his family reaped all the benefits.
"The redesigner here is also clapping for the redesigner in Delhi," he said, while referring to Rao's support to Modi on demonetization and GST.
He accused both the leaders of suppressing people's voice and snatching money and land from the poor to fill the pockets of a few rich industrialists.
Gandhi again challenged Modi for a debate on Rafale deal, saying the Prime Minister revised the price of fighter jet from Rs 526 crore to Rs 1,600 crore to help his friend.
The Congress President said that while he could understand Modi's silence on Rafale as corruption was involved, he was not speaking a word even on atrocities on Dalits and tribals, killings of minorities and rapes of women and girls across the country.
Gandhi promised that if voted to power, the Congress would implement the Goods and Services Tax (GST) with one slab and not five slabs as being done now. He also declared that the items used by poor would be exempt from GST.
He slammed the Modi government for increasing prices of petrol and diesel despite the fall in crude prices in the international market from $140 to $70 per barrel.
"Prices of petrol and diesel are coming down in all other countries but they are going up in India. The money you pay is going to the pockets of a few rich industrialists," he told the gathering.
Gandhi said the dream which the people of Telangana had during the movement for a separate state had not been fulfilled during the last four years.