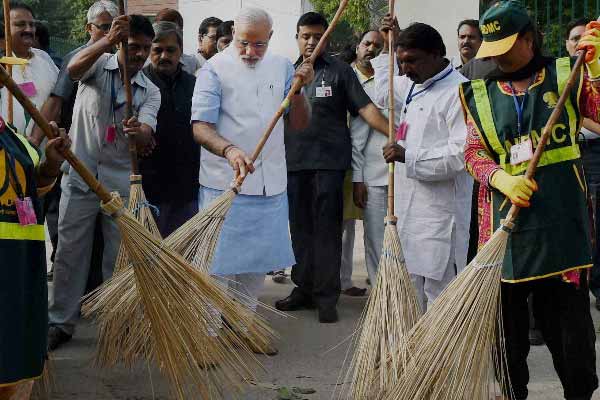 How shameful it is? An intermediate girl student in Nalgonda district of Telangana committed suicide on Monday, a day before the 67th Republic Day.
Why is it shameful?
Because, the girl took the extreme step unable to bear the reluctance of her parents in conceding her demand for the construction of a toilet in her house for over six months.
The 'Swacch Bharat' campaigners and crusaders must hang their head in shame. India, which boasts of 4G and everything ultra modern in the world and cutting edge technologies, is witnessing a suicide for such a cause. Pathetic, ain't it?
Almost all Padma awardees of this year, last year and the previous years, celebrities and legends are ambassadors of Swacch Bharat campaign.
And, look at what our poor very dear daughter, Kodaparthy Rekha, reminded us about on the eve of India's 67th Republic Day. Our eyes must be welled with tears, not out of pride and pleasure, but due to shame and callousness.
We are sorry, Rekha. As a nation, we lost even that right to seek forgiveness from you and an opportunity to tender an apology.
A small inspirational story of a fictional character Priyanka Bharati has become very popular after the advent much-touted Swacch Bharat campaign by Narendra Modi.
She leaves her in-laws' house demanding the construction of a lavatory in her house. The radio jingle and the TVC (TV commercial) end with a slogan: "Soch aaye toh, Souchaalay bhee aathaa" (meaning if the thought comes, lavatory also would come up).
This ad campaign caused waves. Even though nobody has chronicled how many have been inspired by this in over a year, most Indians know this by heart.
Inspired by this, Rekha too got the thought. But the toilet did not.
Gundala in Nalgonda district of Telangana State plunged India in its entirety into a pall of gloom. Of course, this is limited only to those who are aware of the heart wrenching suicide of Rekha.
The poor 17-year-old girl has been confronting her parents, Satthaiah and Nagamma, with a demand for the construction of a lavatory in their house. She questioned Nagamma on the same thing even on Monday and sought to know why were her parents reluctant to realise and understand her problem of not having a lavatory at home.
Nagamma explained to her daughter that there was no sufficient space for the construction of a lavatory on the premises of the house. Therefore, Nagamma told Rekha, is wasn't possible to build one immediately and she had gone for NREGS (National Rural Employment Guarantee Scheme) works.
Satthaiah went to Ramaaram in Gundala mandal where he works as a Gardner.
Frustrated over the "excuses" being given, Rekha doused with kerosene and immolated herself, shaming the nation.
The sub-inspector of police K Raju registered a case and is investigating. The police may register cases under suspicious death, suicide and abetment to commit suicide.
But who is responsible for the demise of the young Rekha? It is the society that should own up moral responsibility.
Amidst our lofty ideas about too many great things like bullet trains, skyways, world class capital cities in a country riven with too many problems that couldn't even be scraped at the surface level, why don't we realise the tall promises of our political midgets cannot conceal the bellied up ideologies and that we are laying bare ourselves.
Our foundation itself is rickety, while we put up a flamboyant face. There is nothing "Swacch" about Bharat.
Telugu360 is always open for the best and bright journalists. If you are interested in full-time or freelance, email us at
Krishna@telugu360.com