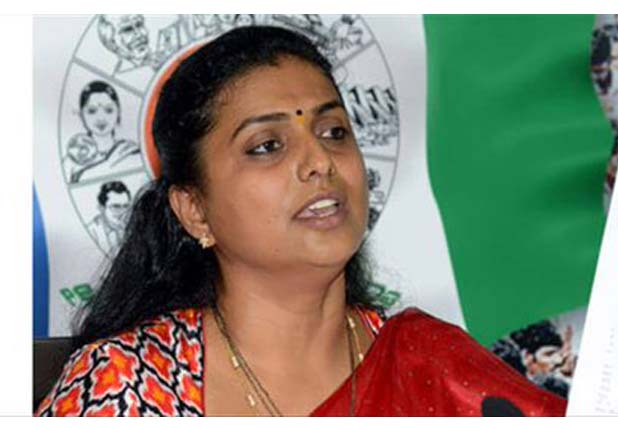 YSR Congress Party MLA R K Roja, who had earlier played active role in TDP for over a decade, under the leadership of Chief Minister Chandrababu Naidu, now seems to be turning into a big challenge to the TDP supreme. After ten days of her unceremonious `abduction' and preventing from attending National Women's Parliament (NWP), today she surfaced in Vijayawada and questioned the track record of Chief Minister and his associates.
She filed a private complaint against the police for confining her at the Gannavaram airport on her way to attend NWP last week, at Gannavaram court. She accused that the incident was a clear example of Chandrababu Naidu government's undemocratic and anti-women style of functioning. And alleged that Naidu regime looks like that of Hitler.
She alleged that NWP which was intended to focus on women empowerment had turned to be a `kitty party' of the Chief Minister. Deploring that she was insulted after inviting for NWP, she asserted that she would continue legal battle against this injustice.
Roja today practically pushed Chief Minister into offensive referring to his statement that she was prevented from NWP in view of her `track record'. Raising several questions, she asked him that didn't he not realised her `track record' when she was in TDP for a decade?
Recalling `evil political designs' of Chandrababu Naidu and his associates, she questioned that did she is having a track record of desterilising governments, blasting bombs or shooting gun in her house, dragging and bashing a women MRO like Chinthamaneni Prabhakar, harassing own party women leader like Ravela Kishore Babu and involving in call money sex rocket like some TDP leaders?
She also didn't spared DGP N Sambasiva Rao and advised him not to work as a puppet of Chief Minister. She cautioned him that if he resorts to act violating law, people looks him as a `villain'. She questioned him what `track record' makes him to prevent her from entering Vijayawada ?
Alleging that Chief Minister using police as bouncers, she said that during TDP regime crime rate increased 11 per cent. In Vijayawada city, where both Chief Minister and DGP resides, as many as 70 rape cases were reported.