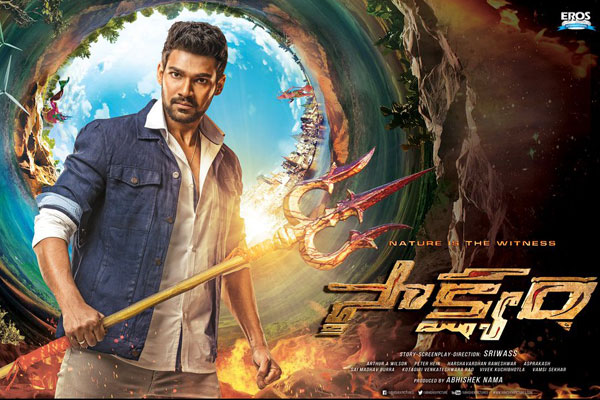 Saakshyam review, Saakshyam movie review
Telugu360 Rating 2.5/5
Story:
Vishwa (Bellamkonda Sreenivas) is son of a businessman in New York and also runs a company that is into video games. He falls for the charms of Soundarya Lahari (Pooja Hegde) who comes to New York to stay at her sister's house for some time. She gives spiritual speeches in the temple there. A small misunderstanding separates them and she leaves for India. He follows her to India. Meanwhile, Munu Swamy(Jagapathi Babu) and his three brothers who deal with illegal businesses and mining contracts face problems. First one brother is killed by Vishwa, next another one. Vishwa does not know that there is link to these happenings with his past. What is that?
Analysis:
'Saakshyam', director Sri Wass's first big-budgeted graphical extravaganza, begins on an interesting note. 'Saakshyam' begins much like 'Baahubali' with a woman is trying to save baby boy as killings are happening in her home. In 'Baahubali', Ramya Krishna saves baby boy swimming through a river and the boy is saved by a tribal couple and he is raised as their son. Here in 'Saakshyam', Sharat Kumar and his entire family is perished and his wife Meena ties the baby boy to a calf to save their son and the calf throws the baby into a lorry and the lorry reaches to Benaras and is adopted by rich people. So, the beginning of 'Saakshyam' sets right mood. No wonder then that in pre-release interviews, hero Bellamkonda Sai described the film as mini-Baahubali. Well, the comparisons end there.
The team of 'Saakshyam' might have wanted to make another 'Baahubali' but the movie's director doesn't have such skill set which is evident after the flashback in the beginning. Soon after the boy is saved, the story cuts to current time in New York and we get to see typical mass hero-introduction. Later the movie runs into regular style of boy running after girl and songs. The entire first half is based on this love track which is quite boring. Second half happens in India and the real point of the movie comes here. Post-interval it begins to look interesting and engaging as killings of main villains happen with the elements of pancha boothalu but it soon drifts into regular pattern.
In the crucial climax portions, it comes crashing down. Director Sri Wass's lack of writing gripping screenplay skills is the real villain here.
Technical and production values are of superior quality. The film is shot extensively in exotic locations in various countries in tune with the theme of nature's five elements and the cinematography is first rate. The visual effects are neat. The film's major strength are grand visuals and production values.
The background score is quite good but the songs are not impressive. Action stunts are equally good. Editing could have been tighter at places and should have been smoother. Two hour forty minutes of runtime is too lengthy for this storyline.
Performances:
Bellamkonda Sai Srinivas has improved his acting skills better compared to his previous movies. Yet he has still long way to go to impress on performance alone. He is fit as fiddle for the role that he has played, shown his mark in action sequences. Pooja Hegde, the glamour queen of Tollywood, is seen here as eye-candy.
Jagapathi Babu as the menacing main villain is just okay Sharath Kumar as hero's father appears for brief time. Ravi Kishan, Ashutosh Rana and other host of actors have done typical roles, nothing much to write about. Vennela Kishore as hero's friend is okay. Lyricist Anantha Sriram gets important role.
Positives:
Concept of pancha boothalu
Grand locations and visuals
Action set pieces
Negatives:
Inconsistent narration
Boring love track
Uninspiring music
Way too lengthy
Cardboard performances
Verdict:
"Saakshyam" is a regular action drama with the elements of revenge but the theme of pancha boothalu has added some newness. However, beyond the visuals and action set pieces, it doesn't offer anything new. Moreover, the songs are boring and the romantic track tests the patience. The unconvincing narration regarding pancha boothalu also leaves us disappointed. Overall, this one is costly routine revenge drama aimed for mass audiences.
Telugu360 Rating 2.5/5
Film: Saakshyam
Cast: Bellamkonda Sai Sreenivas, Pooja Hegde, Sharath Kumar, Meena, Jagapathi Babu, Ravi Kishan, Ashutosh Rana, Madhu Guru Swamy, Jaya Prakash, Pavithra Lokesh,Vennela Kishore and others
Dialogues: Sai Madhav Burra
Music director: Harshavardhan Rameshwar
Cinematography: Arthur A Wilson
Art: A S Prakash
Editor: Kotagiri Venkateshwara Rao
Action: Peter Hein
Banner: Abhishek Pictures
Producer: Abhishek Nama
Story, screenplay and Directed by: Sriwass
Release date: July 27, 2018