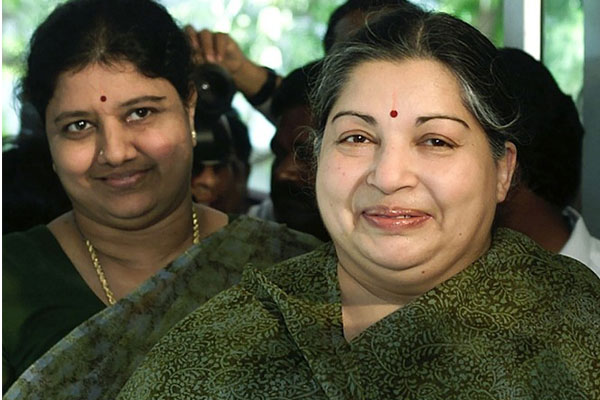 Sasikala In DMK
Is Sasikala Natarajan, close confident of Tamil Nadu Chief Minister Jayalalithaa intend to join hands with a section of DMK chief Karunanidhi's family members to succeed her in AIADMK ?
Since AIADMK chief Jayalalithaa was hospitalised and uncommunicative, Sasikala seems to be making tactic political moves. A news that she inquired about DMK chief 's health, who is now in a hospital, with his wife and Rajya Sabha member Kanimozhi's mother Rajathi Ammal gaining prominence in this regard.
Earlier, after Jayalalithaa was hospitalized, Ammal had visited Apollo Hospital to enquire after her health. This has been indicating Sasikala's cordial relations with Ammal. According to sources, she visited the hospital after Stalin's visit getting her husband's nod. She had reportedly Kalaignar that a woman from the family should meet Jayalalithaa or her aides and extend our well wishes.
Lilke Jayalalitha, Karunanidhi's health condition is also causing worry. Karunanidhi had already declared son Stalin as her political successor, but a section of his family members are constrained to accept it. On the other hand, Jayalalithaa had not named her succession and in recent times her relations with Sasikala also said to be not so cordial.
As a section of AIADMK leaders are not comfortable with Sasikala, many suspects that she is silently making a move to emerge as an alternate in the post- Karunanidhi and Jayalalithaa era by engineering a new political realignment in state. In her scheme of things, a large section of AIADMK, who accepts her leadership may join hands with a small section of DMK, who refuse Stalin's emergence.
It seems already Sasilaka started execution of her plot, which was evident with AIADMK MPs for the first time joining with their DMK counterparts at an opposition protest in Delhi against demonetization in Delhi. Sensing it was plotted by Sasikala, half a dozen of party MPs kept away from the protest.