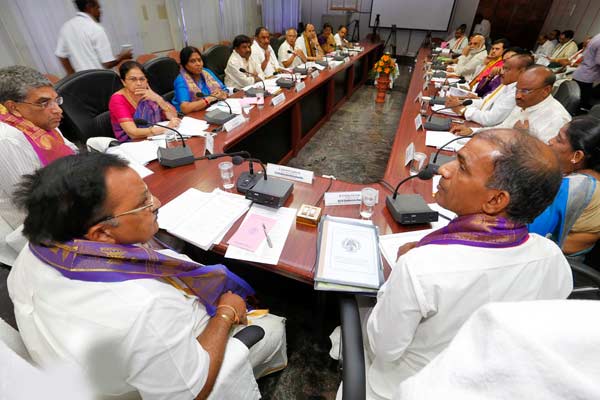 The arrest of TTD Trustee Board's former member Sekhar Reddy and three of his associates in Chennai by Income Tax personnel, besides seizure of more than Rs 150 crore worth currency notes and gold bars, raising a question on the criteria being followed by successive governments in constitution of temple Trustee Board.
Both the YSRCP and Left parties are accusing that Sekhar Reddy is a `benami' of both Andhra Pradesh Chief Minister Chandrababu Naidu and former Tamil Nadu Chief Minister's close associate Sasikala. They are stating that Chandrababu Naidu cannot washed away his role by simply removing him from TTD Board, but should explain why such a `shady businessmen' was at all nominated to the Board.
It may be recalled that all the Board members are either politicians or businessmen, not a single person who is known for his religious practices or knowledge about Temple management was nominated in recent times. During Congress regime its MPs like T Subbarami Reddy, K Bapi Raju and former MLA B Karunakara Reddy were appointed to head TTD's Board.
Now, Chandrababu Naidu chosen former MLA Chadalawada Krishnamurthy to head the Trustee Board. Having failed to give him party seat in Assembly elections, Naidu said to be `accommodated' him in the Trustee Board. All the members of the Board are with `political patronage' only.
Sekhar Reddy is known as a contractor-cum-political lobbyist and his intentional are only business without any known record of social or religious services. Andhra Pradesh CPI secretary Ramakrishna said it would not be possible for a person like Sekhar Reddy to obtain Rs 70 crore new currency notes without any political `patronage'. He demanded that Naidu should give explanation how he could accommodate such high-level cheater into a world-famous temple administration.
The CPI leader has demanded that taking clue from this episode, all political parties should be cautious and avoid nominating businessmen and politicians into temple Trustee Boards.