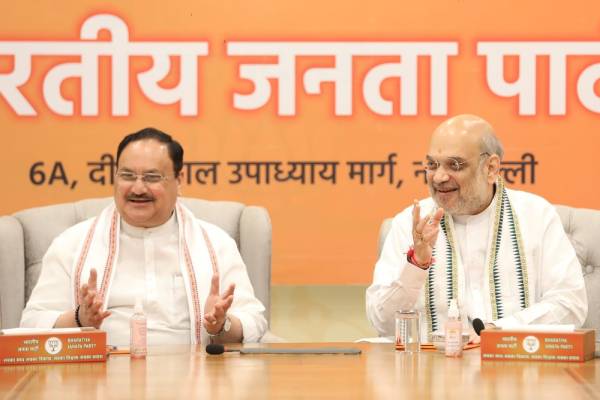 Union Home Minister Amit Shah, BJP national president J.P. Nadda and other central leaders on Friday congratulated the party's Telangana leadership over the victory of BJP-backed candidate in the Legislative Council election.
Shah termed the victory of A.V.N. Reddy from Mahabubnagar-Rangareddy-Hyderabad teachers' constituency as historic.
He congratulated Reddy, BJP state president Bandi Sanjay and the entire state unit of the party.
"This victory shows that Telangana people are fed up with corruption and want a pro-poor, transparent govt under PM Modi's leadership," tweeted Shah.
Responding to the tweet, Sanjay said that the collective movement of people belonging to various sections against the corrupt government of the KCR family is reaching its peak under the leadership of the BJP.
He claimed that the election result is proof that the entire people of Telangana are waiting for a double-engine government.
He exuded confidence that with the same spirit, the party will achieve final victory with the help and guidance of the Central government led by Prime Minister Narendra Modi.
Nadda also took to Twitter to congratulate Reddy, Bandi Sanjay and the party's state unit for 'historic victory'. The BJP president wrote that the people have discarded the BRS once more and have embraced the BJP's vision under Prime Minister Narendra Modi.
BJP national general secretary B. L. Santosh also congratulated AVN Reddy for "well deserved win".
"It's another mandate against anti anti-poor, anti development, corrupt, dynast BRS party and their arrogant leadership," he said.
Sanjay in his reply to the tweet stated that this election proved strong anti-incumbency against the dictatorial BRS, especially among employees and the 'educated.'
Another central leader of BJP and incharge for Telangana, Tarun Chug also described the victory of the BJP candidate from the Mahbubnagar-Rangareddy-Hyderabad teachers' constituency of the Telangana Legislative Council as historic. He congratulated all Telangana BJP workers along with A.V.N .Reddy and Bandi Sanjay.
Reddy had contested as the candidate of the BJP affiliated teachers' union.
He was declared elected Friday after 21 rounds of counting, defeating his nearest rival G. Chennakesava Reddy of PRTU.
After the victory, Reddy went to the BJP office and called on Bandi Sanjay, who congratulated him.
Meanwhile, the BRS ridiculed Sanjay for taking credit of the win just for extension of his term. BRS leader Krishank Manne clarified that BJP did not contest the election. He said the BJP neither fielded any candidate nor supported anyone.