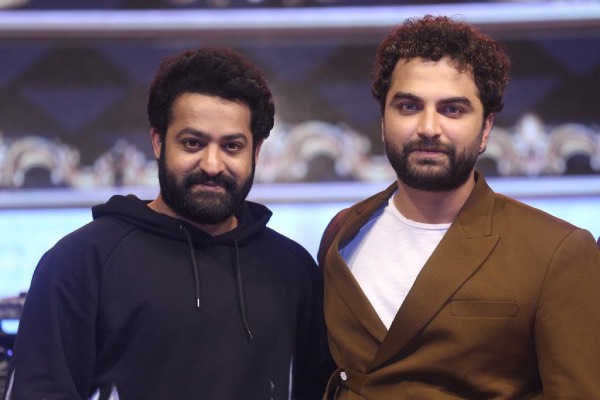 Vishwak Sen's Das Ka Dhamki is releasing on March 22nd as Ugadi Special. Vishwak is directing and producing the film as well. Young Tiger NTR is the Chief Guest for the film's Pre-release event in Hyderabad which witnessed a massive crowd in attendance.
Speaking at the event, NTR said, "I can't speak like Vishwak how he does on mike because his confidence is just impossible. I felt like it is my responsibility to come here. I watch Ee Nagaraniki Emaindi whenever my mood is off. Vishwak and Abhinav were too good in the film. It is not easy to convey so many expressions and emotions despite a first-timer. After Paagal, I thought he is going in the routine path. But he surprised me with Ashoka Vanamlo Arjuna Kalyanam. I wish Das Ka Dhamki will become a blockbuster. He is very passionate and put his everything on this film. We should encourage people like him".
Vishwak Sen said, "It is great for a star like NTR to come for a fan. He called me for dinner two months ago and I invited him for Dhamki event. He gave him word and kept it. I thought of not asking him again due to a personal tragedy in his family but he himself asked his staff to find out the event date. I also thank him for making India proud and staying with me. He is god send for me and I feel the movie is already a blockbuster. Dhamki is not a film, it is Vishwak Sen 2.0. See you in theaters on 22nd".