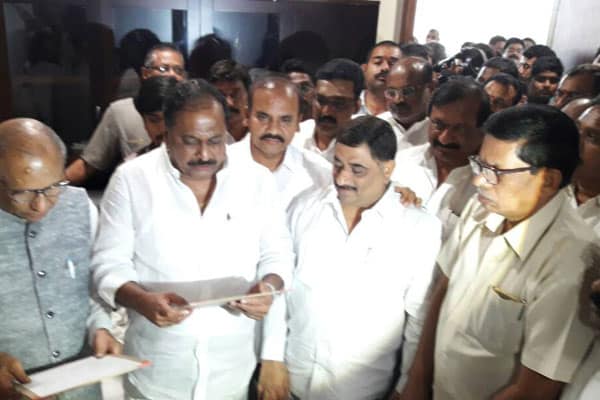 Vijayawada: Senior leader from Kurnool, Silpa Chakrapani Reddy, who won from the local body constituency in Kurnool last month, took oath on Monday. He took the oath in the chamber of Council chairman Dr A Chakrapani. Ministers Kalva Srinivasulu and Prathipati Pulla Rao, besides others congratulated and greeted Chakrapani Reddy on the occasion.
Chakrapani Reddy's brother Silpa Mohan Reddy was also present when he took the oath. The sources said that Chakrapani Reddy is tipped for the Council chairman post, which is set to fall vacant by the end of this month as incumbent Chakrapani is retiring. It was on this promise that Chief Minister N Chandrababu Naidu had tried to build truce between the Silpa and Bhuma families from Kurnool district. The two families are at loggerheads over the successor to the Nandyal Assembly constituency where by-election is to be held shortly following the death of sitting MLA Bhuma Nagi Reddy.
The two families are locked in a war now with Minister Bhuma Akhila Priya staking claim for his father's seat to his family, while the Silpa family staked its claim for the Nandyal seat as Mohan Reddy contested the seat in the 2014 elections and has plans to contest in the next election. The Silpa family is not willing to give up the seat in any case, even on the sympathy grounds as it feels that the Bhuma family was already considered for the Cabinet berth on sympathy grounds.
Chief Minister Chandrababu Naidu had held two rounds of talks with the two families and their supporters before he left for US tour and had decided to delay the decision. It was during these talks that the Chief Minister had promised the Council chairman post to Chakrapani Reddy. However, the Silpa family was not ready to give up its claim for the Nandyal seat even if the Council chairman post is given.
As the Chief Minister is scheduled to return to the State in the next week and the Assembly is set for a two-day session later, it is to be seen whether Chakrapani Reddy would get the elevation or not. It is also to be seen how Chandrababu Naidu would resolve the issue of allocating the party ticket for the Nandyal seat working an acceptable compromise for the two families.