Size Zero has a catchy title and generated pre-release buzz in the marquee. This  is Anushka's third film of the year and it comes soon after the release of Bahubali and Rudramadevi. In addition to her name and publicity that generated curiosity, it is produced by the prominent production house PVP. Size Zero had been delayed for a while and is finally out today. Let's see if it is worth watching and to which section of the audience it appeals.
Story:
Sweety (Anushka ) is a happy go lucky, food junkie and obese girl who lives with her mom and younger brother. Many of the prospective bridegrooms reject her becasuse she is too fat and because she is bold. Sweety's mom's (Kalpana Ranjani) aim is to get her daughter married to an NRI groom. She runs after her daughter pushing her to slim down and Sweety hardly cares about it. Abhi (Arya) is an NRI, another prospective brigegroom,who shifts to India to make documentary movies on Sanitation in India, to run Social awareness campaigns such as "Clean India",  visits Sweety. Both of them do not like the idea of getting married at that time and they lie to their elders that they haven't quite liked each other.
Their introduction turns to friendship and meanwhile Simran (Sonal Chauhan),another NRI,joins Abhi in his progressive social work in India.
Rest of the story takes a romantic turn and it is about what happens between the three of them. Did the obese Sweety target Size Zero or remain Size Sexy ( as she claims) ? Does the friendship or romance between Sweety and Abhi end ? Watch it on the big screen.
What worked well ?
Audience will fall in love with Sweety's characterization right from the word go. In general, in these type of story lines, directors try to first heckle the protagonist(obese in this case) through other characters and generate sympathy but in Size Zero, director Prakash Kovelamudi did not take the beaten path. Instead, he designed Sweety's character as having self respect and portrayed to be possessing joi-de-vivre. Endowed with her positive attitude, Sweety makes the audience fall in love with her. Anushka performed Sweety's role with perfection. The film shows the fair sex of the current generation, their parents and bridegrooms' obsession with Size Zero realistically. The strength of this script is its subtle message that been conveyed without being preachy. A majority of the women might identify with the characters in this movie. Characters are so authentic. What adds more credibility is that the story and screenplay has been written by a female, hence there has been more sensitivity and contemporary thinking, it is real and urbane too
Cinematography is rich and vibrant
Songs are pictured well and look beautiful on screen.There are couple of good melodies, peppy and sexy numbers too.
The  title song, Size zero is very trendy.
Nagarajuna, Tamannah , Rana Daggubati and others have made special appearances
Sonal Chauhan with her true Size Zero,sizzled on the screen and added glamour quotient to the movie
What should have been better?
Somewhere in the middle of the second half, those scenes revolving around campaign against fast track weight reduction centres appear superficial and dragged
This story line might not connect well with young, college going students
Brahmanandam's comedy is banal, as has been his performance in last few flicks
Thin storyline, no stronger conflict point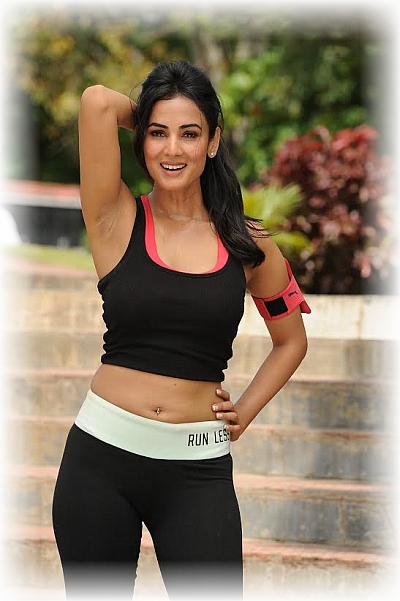 Technicians :
Director Prakash who tasted a flop with his previous film Anaganaga O Dheerudu, has done decent job in this movie.He believed in the subject and stuck to narrating it with honesty
Production values from PVP Cinema are very high and they made sure the movie looked urbane and rich. The dialogues are quiet natural, no dramatization except in couple of scenes
Dubbing(by Nandu) for Abhi Character is good,Editing by Prawin Pudi is good.
Verdict :
Size Zero is good attempt with a strong message.The general tendency with some of the audience is as soon as they hear the word "message oriented", they might back off and will be in no mood for gyan. Let us clarify here that this "message" has no moral tone and has been conveyed in a subtle and a stylish manner with an ample dose of commercial elements. This movie will be immensely liked by the women, it is a good watch for families too. However, the young guys may not like this movie as their counterparts did. The box-office fate of this movie depends on how the general masses take to this kind of heroine oriented subject.
Telugu360.com Rating 3/5
Cast : Anushka Shetty, Arya, Sonal Chauhan ,Prakash Raj, Brahmanandam
Special Appearance : Nagarjuna, Rana Daggubati, Tamannaah, Lakshmi Manchu
Direction : Prakash Kovelamudi
Producer :  Prasad V Potluri
Story-Screenplay :  Kanika Kovelamudi (Kanika Dhillon)
Music : M. M. Keeravani
Cinematography : Nirav Shah
Editing : Prawin Pudi
Release date: November 27th 2015
Run Time : 130 Minutes