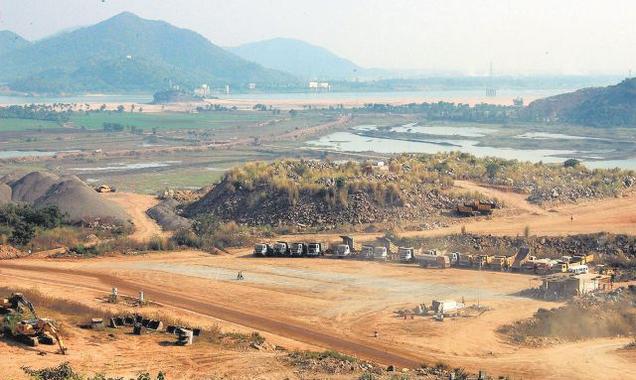 Andhra Pradesh government's attempt to keep the Polavaram project villages outside the purview of new Land Acquisition Act enacted in 2013 suffered setback.
National Human Rights Commission slapped show cause notices on the state government as well as the centre asking them to explain as to why the Commission should not direct them to apply the new Act to the Polavaram project villages even though the land acquisition notification had been issued five years ago.
Responding on the petition filed by the noted economist and rights activist Dr Pentapati Pullarao, who sought Commission's intervention in the alleged eviction of villagers from lands under Polavaram Project without paying compensation and providing rehabilitation under 2013 Act. The state government in its affidavit dismissed the allegations of the petitioner stating the land acquisition process had been initiated under the Act 1894 much before the passage of new Act and stated that the invocation of provisions of new Act to the Polavaram villages was not possible.
Then the petitioner Rao again approached the Commission with more information about the forceful eviction of people and rehabilitation. He urged the NHRC to direct the state government to provide the relief to the project affected people as per the Section 24(2) new Act, which
clearly stated that if the process of land acquisition was not complete under the old act, the proceedings become lapsed and fresh proceeding under the new Act should be be initiated.
Dr Rao also argued that the Polavaram project was not a state project, the project had been converted into National Project as per the provision of AP Reorganization Act.2014. The case was eminently eligible for the invocation of Section 24(2) of Act 2013, though the notification had been issued several years back and the physical possession of land had not been taken by the government. The Commission found substance in the argument. Citing previous judgments of Supreme Court, the Commission said the new laws had been made applicable to the old awards when the government did not take physical possession of the lands.
The Commission asked the secretaries, ministry of water resources GOI, ministry of rural development, GOI, chief secretary, government of Andhra Pradesh to explain as to why the Commission should not recommend initiation of fresh proceedings for land acquisition in respect of the villages where the awards had been made more than five years back but physical possession has not been taken. The Commission asked the centre and state to respond within eight weeks.