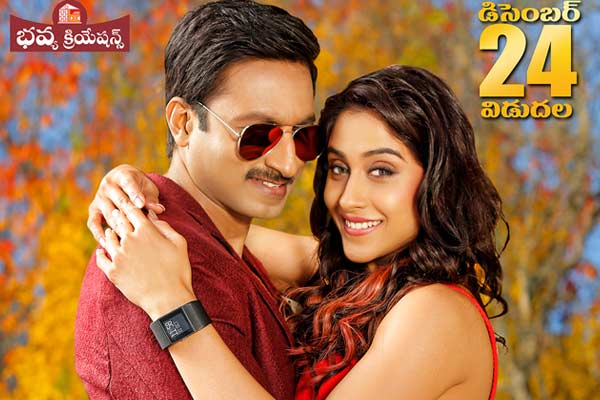 A.S Ravi Kumar Chowdary first directed a film called "Yagnam" almost a decade back and "Pilla Nuvvu leni Jeevitam" last year. Now he returns with "Soukhyam" to add to the series of filmography that T.Gopichand has been adding so far with titles drawn from synonyms to all the good qualities embodied in "Pedda Baala Siksha" like "Shouryam", "Loukyam", etc. Unfortunately, the story is nothing new and the treatment not updated to hold your attention for 142 minutes.
In the quest to make high-energy output, the director alongwith famous writers Kona Venkat and Gopi Mohan have created one more zombie plot which revolves around Gopichand who, a jobless youth who keeps rejecting marriage offers because he loves Regina Cassandra – a girl he met few months back. Destiny keeps bringing the girl back into his life and just as he is about to marry someone else out of pressure, Regina walks into his life yet again after playing hide and seek for many months. Parallel to this story is a background to Gopichand who keeps bashing up batches of villains obstructing road traffic or arranging forced marriages on friends' girl-friends. The catch comes around interval time, when one of the villains, Pradeep Rawal dares Gopichand to take Regina from the den of her famous political Don father – "PR" (Devan) and run. Gopichand takes the challenge and runs away successfully into and out of PR's den with his lover Regina. What are the problems that come with hiding his lover – where he last expects help for – at his home, forms the second half of the story with some templated comedy scenes with Pridhvi Raj, Brahmanandam and Krishna Bhagwan.
On the whole, a disappointing film with banal and utterly predictable fare from Ravi Kumar Chowdhary. One wonders why ace writers like Kona Venkat and Gopi Mohan continue to think "inside" the box to write such routine films which follow a nauseuating pattern – hero loves girl, plays truant with villains or family, and makes friends with either of them making buffoons out of them. If the ending is not happier, the movies could have been written out in twitter news feeds and conveyed to the audiences at a fraction of what multiplexes and theatres are charging the movie tickets at. It is some sort of travesty that we have to go through these riggmarole of formula films in the name of entertainment.
While Gopichand looks good as a lover and a hero, this is not a feather to don his cap of recent successes. Not much around him fires on all cylinders to give him support. His dressing sense and dancing ease has improved after "Jil" and it shows on screen. As an actor, he has taken some audacious calls on selecting a range of scripts with different concepts in recent past; he should be more careful in selecting films instead of nodding to scripts who have given him earlier hits. That is what makes a Star jump to Superstar status – you have to crossover from ordinary to beyond ordinary as you dribble different films on the way. Regina Cassandra has bagged some hits of late, but this film is unlikely to give her much fame. She looks cool and glamorous though. Devan and Rawat look a generation apart as villains but both look like spent forces on screen. The hype built around Devan drops after interval with insipid characterisation. Dialogues are dull and look lazily adapted from every famous film's one-liners in recent past. Music by Anup Rubens shows initial promise with some songs but doesn't strike you as memorable. The comedy scenes are sprinkled throughout the film but only few times you get genuine laughs- there are some serious lags as the scenes get stretched. For example, the parody on "Bahubali" gets good laughs but the Anthakshari scene in the climax becomes dreadfully long even after Brahmanandam appears. It is a sure sign that without proper punches and crispy editing, even comedy misfires. There is only way to end these kind of monotony in films – it is by shunning them and boycotting them. "Soukhyam" in the end neither justifies the title nor gives you the clean entertainment you seek in the last week of an eventful year in Tollywood. It should have been titled "Shubham" and ended with that.
Telugu360.com Rating 1.75/5
Telugu360 is always open for the best and bright journalists. If you are interested in full-time or freelance, email us at
Krishna@telugu360.com