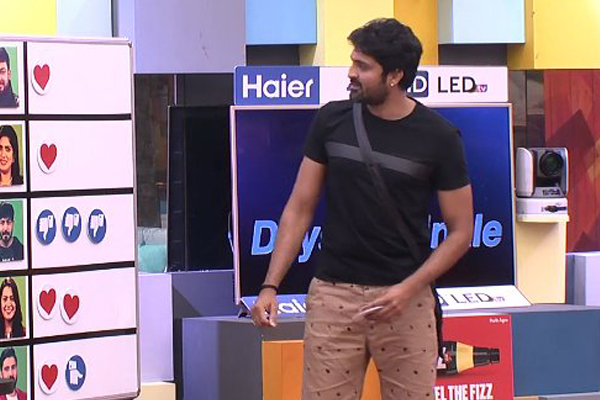 Telugu 360 has done SWOT analysis on the finalists of Bigg Boss season 1 earlier ( www.telugu360.com/will-bigg-boss-telugu-title-winner-swot-analysis ). Let's have a look at strengths and weaknesses of the Bigg Boss season 2 contestants and their prospects to win bigg boss title show. Totally 5 contestants are in the finals- Geetha Madhuri Kaushal Tanish Samrat and Deepti. In this article let's focus on Samrat's strength , weakness , opportunity and threats to win the coveted title.
Strength:
Samrat biggest strength is his likability. Out of the 5 contestants appearing for finals, he is the one most liked by all other housemates. In fact during race to finale task, except Kaushal, all other housemates supported him to reach the finals. His competitor roll Rida also supported Samrat going to finals after he couldn't save his eggs. In the entire season of 16 weeks, he came into nominations only twice. That shows how much he is liked by the housemates. Even in those two nominations also, he self-nominated once to save Kaushal during hand cuff task. His childlike behavior and the way he entertained audience with his mimicry and imitation is liked by audience a lot.
He also showed his strength during physical tasks as whoever tried to win over him in physical tasks utterly failed. The episode in which he helped Roll Rida reach finals by confronting Kaushal shows his physical strength.
Weakness:
Even though he is physically very strong, it seems he is not that strong mentally. He becomes very emotional easily. Moreover, his bonding with Tejaswi did not gel well with audience. The entire chemistry looked a bit odd to happen in Bigg Boss house. Also after reaching finale, he told he is content with reaching finale and he doesn't mind even if he doesn't win the title. This also shows people he doesn't have that passion to win the title.
Opportunities:
Compared to other finalists he doesn't have more opportunity to win the title. But, it is true that many people like his child like mentality. Many people also know about his court cases (regarding his marriage) from news media. All the audience now came to know about his soft nature and people have a benefit of doubt that he might not be guilty in those cases. Even Samrat's mother also told the same when she was in the house that – now people of Telugu States know about his true character and how good he is.
Threats:
He couldn't leave a strong impression on the audience to vote for him. Even though people like his soft nature and his Good Samaritan mind set, that may not be sufficient for them to decide to vote for him as title winner.
As of now (by seeing social media trends), Samrat is not very strong and it looks he may not be in top3. We will have to wait and see how Samrat fares in the finals.