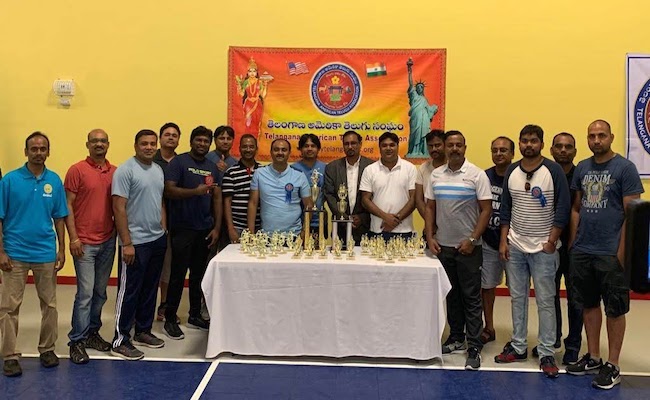 Telangana American Telugu Association (T.A.T.A) organized a Volleyball-2019 tournament on Saturday, July 13 from 8.00 am to 7.30 pm at Core Volleyball (Indoor) Hillsborough, NJ.
There is an overwhelming response to the tournament; there are 20 teams over 200 players played in various courts throughout the day in an indoor professional courts.
T.A.T.A took care of every aspect of the tournament including registration, breakfast and beverages for participating teams and attendees of the entire family members and supporters of around 500 people who participated throughout the day.
This mega tournament was organized by T.A.T.A. NJ team under the guidance & support of Dr. Pailla Malla Reddy (Advisory Council Chair) and Dr. Mohan Patalolla (AC member) and Srinivas Ganagoni (General Secretary).
The event was initiated and planned by Vijay Bhasker Kalal (Volleyball tournament Coordinator) and Kiran Duddagi (NJ RVP) who worked hard on identifying the venue, recruiting the teams, defining rules and executing the tournament flawlessly. Vikram Jangam ( President) of the T.A.T.A. congratulated the entire NJ team for their careful planning flawless execution of the tournament.
The tournament was inaugurated by Srinivas Ganagoni (General Secretary) by welcoming all the teams with an US and Indian national anthem along with all the players in a professional atmosphere in presence of wider audience. He also explained the motto of Telangana American Telugu Association and the reason for organizing such sports events in North America.
The Chief Guest of the event Ajay Patil, Edison Township Council Vice President met with all the team captains and participated in award ceremony and encouraged the youth to participate in such events and thanked T.A.T.A for conducting such a wonderful sports tournament, he was surprised to see such a great turn out and the professional indoor stadiums in the USA and playing Volleyball in professional way, he reminded of his child hood days in India.
Sudhakar Uppala (TFAS President) met with all the volleyball participants and cheered for their victory. Sarath Veta ( Manabadi Global VP) who was thoughtful to serve watermelons to all the players, it became special addition to the thirsty players during the play, and all the players enjoyed it. He appreciated T.A.T.A efforts organizing the excellent tournament in NJ.
The following 20 teams participated in the tournament:
PSC Rockers (Anoop Kumar), NJ Warriors (Srujan Sasa), Surrisers (MO Narala), Terminators USA (Ashok Vallepu), Springside (Rajesh Ariga), SJ Smashers (Sandeep Dhulipalla), Manalapan Spykers (Taati Mannem), Monroe Royals (Lokesh), Avengers (Ashok Reddy), Chesterfield Friends (Srinivas Yadlapalli), FALCONS (Sai Vijay), Caesars (Rajinikanth Ramamoorthy), BULLDOGS (Ashwin Yadav), Zoo Wee Mama (Johann), SRI (Sridhar Chandra), Royal Arbors (Srikanth Kuntamukkala), Edison Warriors (Ranjith Vangur), Core Volleyball Club (Suresh), T1 Team (Srini) and Telugu Radio (Vilas Jambula).
Out of 20 teams the following 2 teams came as Winners and runners of the tournament, who got cash prizes along with the marvelous trophies to each player.

T.A.T.A. NJ Champions – Winners (Cash Prize $1200) – PSC Rockers
T.A.T.A. NJ Runner-Up (Cash Prize $600) – NJ Warriors
T.A.T.A Volleyball tournaments have always been inspirational ground for young talented teams every year. The T.A.TA. NJ Core team members Mohan Patalolla, Srinivas Ganagoni, Sreekanth Akkapalli, Shravan Nagapuri, Ganagadhar Uppala, Ram Mohan Chinala, Mahender Narala, Kiran Duddagi, Vijay Bhasker Kalal and New York Life, sponsored the event and helped to make the event a grand success. Ravi Moluguri sponsored the delicious dinner for all.
The remaining T.A.T.A. NJ team consists of Satish Mekala (BOD), Shiva Reddy (RVP), Naveen Yelamandla (RC), Narender Reddy (RC), Venu Sunkari (RC) and Gopi Vutkuri (RC) volunteered and help make the event grand success.
All the players were thankful to T.A.T.A organization and volunteers for providing them with the opportunity to play in the nicely coordinated tournament in a professional Volleyball indoor courts.
They appreciated the flawless arrangements made including Breakfast, Lunch, delicious Dinner and beverages, bananas through the day. T.A.T.A has organized the Volleyball tournament to increase the awareness among Telugu people; create opportunities to network and interact among Telugus and also promote healthy living by adding a sport in their daily life style.
T.A.T.A has been very active in the Telugu community with its activities to empower the Telugu people and create opportunities for the betterment of Telugu people.
T.A.T.A. also thank the sponsors and the media personals for their coverage.
CLICK HERE!! for Picture Gallery.
Press Release by: Indian Clicks, LLC
Telugu360 is always open for the best and bright journalists. If you are interested in full-time or freelance, email us at
Krishna@telugu360.com