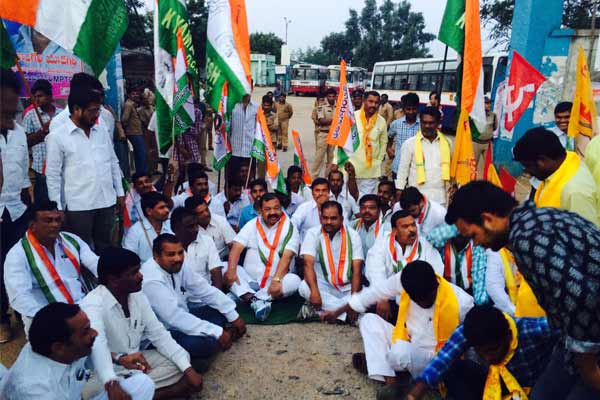 The leaders of all opposition parties in Telangana swung into action early in the morning to ensure that the capital city, Hyderabad, complied with their bandh call, given demanding one-time settlement of entire farm loan so that suicides of farmers could be averted. The bandh call is given by Congress, TDP, BJP, CPI and CPM. YSR Congress also extended support to the bandh.
Early in the morning the leaders under the leadership of TPCC president N Uttamkumar Reddy, staged dharnas before RTC depots in Hyderabad. At several places, leaders have been taken into custody and shifted to nearby police stations. Former Congres s MLA G Sudheer Reddy staged a sit-in opposite Dilshuknagar bus depot with his followers as early as 5 AM in the morning. He was arrested and shifted to Amberpet Police station. Congress working president Bhatti Vikramarkha had been arrested and taken Nampally police station.He was arrest while staging dhrana before Raniganj depot ti along with scores of Congress workers. Similarly former minister and senior Congress leader Marri Sashidhar Reddy, MLC Prabhakar Rao, former city mayor Banda Karthika Reddy, Youth Congress leaders Banda Chandra Reddy, Marri Aditya Reddy, Manavata Roy, Nuti Srikanth had also been arrested and shifted to Nampally Police Stion.
Congress Workers from old city staged Dharna and stopped the buses at Falaknuma bus depot in Hyderabad. They raised the slogans against the state government and demanded immediate waiver of loans of farmers. They also criticized the anti democratic and dictatorial attitude of chief minister KCR and his government. Those arrested at Falaknuma include G Niranjan spokesperson TPCC, Syed Yousuf Hashmi, Allam Bhaskar, B.Venkatesh Mudiraj , Dr.Ansari,(all secretaries)and senior leaders k.venkatesh , B.R.Sadanand, Ashwin Reddy, Pulipati Rahul, gayazuddin, Ashok Reddy, V.Ashok, Block Congress President, G.Srinivas etc.
At some places, stone were pelted at the buses. BJP leaders Dr Laxman, Chintala Ramachandra Reddy participated in the bandh near Jubilee bus station while BJP MLC N Ramachandra Rao at Tarnaka cross roads.