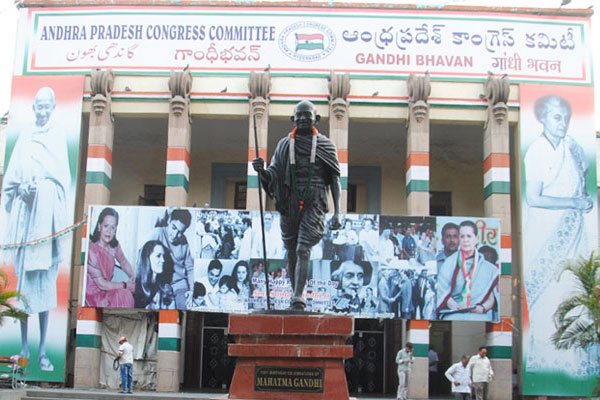 Congress today responded aggressively to the slapping of its MLA Rammohan Reddy by TRS MLA Guvvala Balaraju yesterday. This was the second time a Congress MLA was attacked by the TRS people. In the earlier incident, that happened in Wanaparthy town, local MLA G Chinna Reddy was manhandled by TRS workers when the former questioned non-observation of protocol. In yesterday's incident, that happened in the Mahabubnagar ZP meeting, Rammohan Reddhy was attacked when he asked for a chance to speak opposing the politicizaion of meeting by TRS ministers and MLAs. The TRS ministers asked TDP MLA not to speak as their party national president Chandrabababu Naidu was opposing certain irrigation projects in the Mahabubnagar district. At this time Rammohan Reddy asked the members not to waste time on politics when a heavy agenda with drought and water subjects was on the table. Then Balaraju attacked him, Congress leaders said.
Congress said TRS government had become a rowdy Rajyam and TRS leaders and workers behaving like rowdies.
Protesting the attacks on Congress MLAs, the TPCC today called for a bandh in the district. TDP also supported the bandh. Normal life was affected by the bandh in the District. Congress activists staged dharnas in front of bus depots and did not allow the buses come out of the depots.
Back in Hyderabad, Congress legislature party condemned the incident. Entire CLP, consisting of opposition leader K Jana Reddy,PCC President N Uttamkumar Reddy met governor and submitted a memorandum seeking action against Balaraju. Later, they proceeded to CM's camp office to stage a Dharna, But were stopped near Rajiv Chownk where they staged a sit-in raising slogans against CM KCR. in front of CM's camp office. Also participated in dharna were deputy leader Bhatti Vikramarkha, opposition leader in council Md Ali Shabbir, MLAs Chinnar Reddy, Jevan Reddy, Sampath Kumar, Puvvada Ajay, DK Aruna, R Venkata Reddy, N Padmavathi, N Bhaskar Rao, Vamshichand Reddy, Madhav Reddy and many MLCs .
Speaking at Dharan, PCC president Uttam condemmed the action of the police. " We wanted to represent the CM about the slapping of their MLA by TRS MLA. But, CM, instead of allowing us to camp office, using police to stop us," he said.