[intro]The following is the letter written by India's well known environmental activist Medha Patkar to the Collector of Visakhapatnam. She wrote to ask the collector to stop the forcible eviction of slum dwellers without showing them alternative accommodation, which, she says, is their right. We produce the letter verbatim.[/intro]
To,
Dr. Yuvraj,
The Collector
Vishakapatnam
I am shocked to hear that GVMC is up against permitting even a small number of Bharatnagar slumdwellers to stay on the land closer to the airport,till their due right to shelter is acknowledged and an alternative accomodation is provided to them,with their consent.
Sir,the high court order which i have gone through is certainly not against but rather for following the due process of law.How can any HC direct poor people to be evicted so as to make them shelterless? The order in the review case is still more clear,acknowldging the people's right.
GVMC,it's known has many chunks of land in the city and quite a few of those are encroached by the landgrabber elite.No action is taken against them ,I am told, while only the poor are treated with a kanooni danda.
Is this justifiable? When its only a small number of families ,in spite of the order,the govt of AP and GVMC can always take a just course of action and first provide an alternative to each of the families that remain to be rehabilitated and then vacate the land.
Having witnessed how injustice was done to the slumdwellers,even in the post- cyclone situation when you played some role in favour of the deprived,I would surely be happy if you can take a sensitive and sensible initiative in this regard and not use force but resolve the matter amicably within the framework of constitutional rights .May we expect an immediate stoppage to forcible eviction please? or else we will have to join the battle.
With regards
Sd.Medha patkar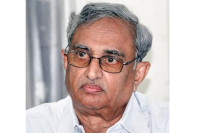 Later in the afternoon, former union secretary, EAS Sarma wrote another letter to Collector Yuvaraj asking him to stop the human rights violation as the colony is a notified slum.

Dear Shri Yuvaraj,
GVMC seems to contend that the site in question had been surveyed and is insistent that the residents of Bharat Nagar should vacate their houses and allow GVMC to demolish them. This violates the human rights of the colony residents and runs counter to the fact that Bharat Nagar has been a "notified" slum for three decades.
GVMC has apparently erred in not conducting the survey of the site in full public view and it raises apprehensions about its authenticity. Let GVMC place the survey results along with the sketch plan in the public domain in comparison with the approved sketch plan of Bharat Nagar obtained from Survey and Settlement Dept in Hyderabad.
If GVMC is unable to do so, you should order an investigation as one gets the impression that GVMC is reluctant to divulge the facts for reasons best known to it.
In any case, I feel that you should intervene and stop eviction of Bharat Nagar residents who have legitimate rights as residents of a notified slum.
Regards,
E A S Sarma
Visakhapatnam
28-9-2015