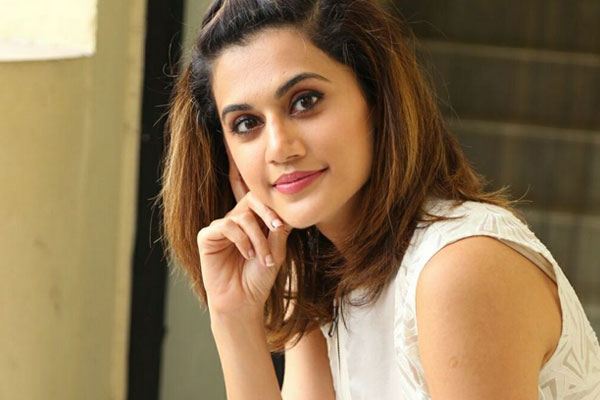 It's Tapsee Vs Netizens in social media last 2 days. Tapsee's supposed Satire on Arjun Reddy director Sandeep Vanga backfired on her and Netizens slammed her saying her tweets are very insensitive. Tapsee also criticized Netizens and told that tweet is not for people with no sense of sarcasm. The tweet war continues. Details as below.
Tapsee's satire on Sandeep vanga:
It all started with a news story by an English channel. As per the news story, a 19-year-old aspiring model was killed allegedly by her boyfriend on suspicion of her "character". The incident happened in Maharashtra's Nagpur district. The man was arrested by police. Tapsee tweeted this news article and made a satirical tweet on Sandeep vanga indirectly. She tweeted, "Or maybe let's just say they were madly in love with each other n this 'act' was to validate his TRUE love for her. " It is known news that, recently Sandeep Vanga said in an interview with Anupama chopra that "When you are deeply in love and deeply connected to a woman (and vice versa), if you don't have the liberty of slapping each other, then I don't see any love there and these women critics whoever are talking this Kabir Singh were never in love". Already Actress Kubbra Sait, dubbing artist Chinmayi and actress Samantha reacted on those comments and found fault with Sandeep Vanga's statement.
Click here: https://www.telugu360.com/who-is-correct-who-is-wrong-sandeep-reddy-vs-female-celebrities/
Netizens ire on Tapsee:
Netizens expressed their anger on her tweet and slammed Taapsee and said she is 'insensitive' to the brutal incident. Twitterati commented that, "Sarcasm on brutally killed dead bodies was never a sensibility in any culture. It's not sarcasm… it shows that you are a highly insensitive person… and you don't have common sense but yes, common sense is not common." Many netizens who do not buy in Sandeep's ideology also found fault with her statements.
Tapsee slammed netizens:
Tapsee also stood by her words and retweeted, "Statutory warning: people with no sense of sarcasm kindly ignore me n my tweet. Thank you , it was nice not knowing you. I hope whoever "schooled" me went to a school where they teach the difference between 'sarcasm' and 'sarcastic humour'. "
Overall:
Overall it looks like, Tapsee's intention was indeed a sarcastic satire on Sandeep Vanga's alleged misogynist statements, the incident that she chose to poke at Sandeep Vanga was a very sensitive one and slightest unbalance in handling it will attract the wrath of people and in fact that's what was happened.