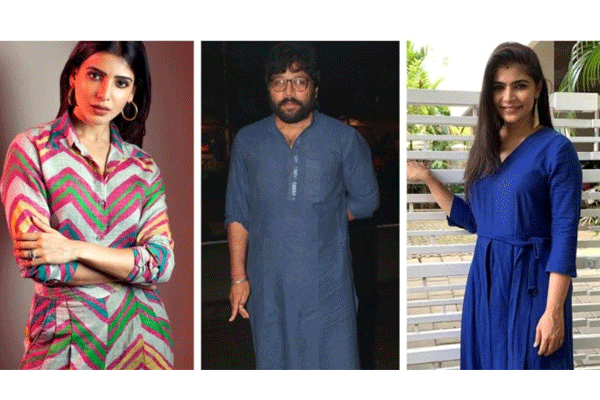 Sandeep Reddy Vanga, the dirrector of Kabir singh(remake of Arjun Reddy), is at the center of controversy that is stirring social media. Samantha, Chinmayi, Anasuya and some netizens took strong objection to Sandeep Vanga's recent statements in an interview calling them as "deeply disturbing". Some others supported Sandeep Vanga. Social media is literally split into two groups in support of and against of these groups.
It all started with Rajeev Masand's review:
Bollywood critic Rajeev Masand giving the rating of 2 out of 5 and passing the remark that this movie is an unapologetic celebration of toxic masculinity didn't go well with the director Sandeep vanga. He lambasted Rajeev Masand and called him biased reviewer. He even questioned when Rajeev Masand doesn't have problem with Sanju and has given it 3.5 stars, why does he have an issue with Kabir Singh.
Sandeep's comments in Anupama Chopra interview raked up the controversy:
While the "director vs critics" issue is still on, Sandeep stirred up a storm with his comments in his interview with Anupama chopra. He said in that interview, "When you are deeply in love and deeply connected to a woman (and vice versa), if you don't have the liberty of slapping each other, then I don't see any love there and these women critics whoever are talking this Kabir Singh were never in love"
Actress Kubbra Sait's hilarious video poking Sandeep Vanga went viral:
Actress, model and TV host Kubbra Sait, who acted in Sultan, Ready and Netflix original Sacred Games took jibe at Sandeep by posting a hilarious video in which she and her man are seen slapping each other and showing that reaction as love. She even posted another video in which she slaps herself to show self-love of herself.
It turned feministic after Chinmayi and Samantha's comments
Chinmayi Sripada, popular dubbing artiste(dubs for Samantha) and singer, has been vocal on issues pertaining to women and was forerunner during #MeToo movement. She wrote in her handle, ""If a man is deeply connected with you, he will never slap you. He will never touh you without your consent. Women (and young boys) have been told for aeons that being beaten up is a sign of Love. IT IS ABUSE!". Actress Samantha, who earlier praised Arjun Reddy as good movie also seconded the opinion of Chinmayi. When netizens reminded that she praised Arjun Reddy movie earlier, she replied, "Liking the film and disagreeing with a comment are two different things. I loved the story of one Arjun Reddy but not the generalisation that love means having the liberty of slapping people around". Another anchor Anasuya, who objected Arjun Reddy movie also joined these two.
#WeSupportSandeepReddyVanga' viral as netizens support Sandeep
All these comments went viral and some netizens started trending the hashtag for '#WeSupportSandeepReddyVanga' . They called these female celebrities as pseudo-feminists. Some even reminded Samantha that there is scene in Rangasthalam in which she is slapped by Ram Charan. Some netizens also reminded about the movie scenes being written and directed by Rahul Raveendran, husband of Chinmayi. RGV also started praising Sandeep Vanga and showed his support.
But is everything fine with Sandeep's statement and these ladies need to be trolled:
Even though, it is not correct to find fault with each and every movie by bringing some topic or other, it needs to be remembered that these women found fault with the real-life statements of film maker but not with film dialogues or the statements of any fictitious character in the movie. In the country where hundreds of domestic violence cases are filed each and every day by the ladies after being beaten up by their husbands, romanticizing the concept of bashing up on weaker sex in real life interview is definitely not something to be done by a responsible film maker. Saying something through a movie character is something different but carrying the persona of film character into real life is not a welcome move. At the same time, the critics who point fingers at characterization of Arjun Reddy/ Kabir SIngh need to understand it is just a movie.