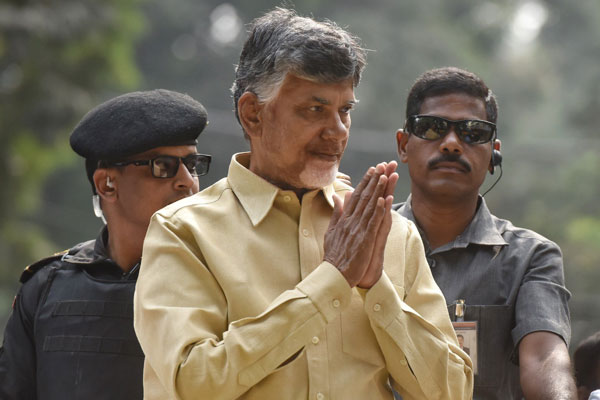 The younger generation is all set to take up the mantle in Andhra Pradesh politics as ministers and senior leaders of ruling Telugu Desam Party (TDP) have opted out of electoral race to make way for their political successors.
Chief Minister and TDP President N. Chandrababu Naidu is perhaps the only exception as he and his son Nara Lokesh both figure in the list of 126 candidates announced by the party late on Thursday for Assembly elections in April.
Deputy Chief Minister K.E. Krishnamurthy, a strong TDP leader in Kurnool district, decided against contesting to pave way for his son K.E. Shyam Babu from Pathikonda constituency, a family stronghold.
Paritala Sunitha, another key minister in Naidu's cabinet, opted out of the race to get a ticket for her son Paritala Sriram from Rapthadu, considered a bastion of Paritala family in Anantapur district.
In Chittoor district, senior TDP leader and former minister Bojjala Gopala Krishna Reddy's son Bojjala Sudheer Reddy will be the party candidate from Srikalahasti. Krishna Reddy was elected from here for five terms.
Gouthu Syam Sunder Sivaji gave up his Palasa constituency in Srikakulam district in favour of his daughter Gouthu Sireesha.
Naidu accepted the request of senior leader Jaleel Khan to field his daughter Shabana Khatoon from Vijayawada West.
Kidari Sravan Kumar, whose father and TDP MLA Kidari Sarveshwara Rao was gunned down by Maoists a few months ago, got TDP ticket from Araku. Sravan was inducted into the cabinet after the killing of his father.
Kimidi Nagarjuna will contest from Cheepurapalle constituency as the political successor of his mother Kimidi Mrunalini, a sitting legislator.
Naidu has also fielded late Central minister K. Yerran Naidu's daughter Adi Reddy Bhavani from Rajahmundry City. Yerran Naidu's son K. Rammohan Naidu is a Lok Sabha MP from Srikakulam and is likely to be fielded again. Yerran Naidu's brother K. Atchem Naidu is a cabinet minister.
The TDP chief has also given tickets to sons of senior leader Gali Muddukrishnama Naidu and former minister Devineni Nehru. Muddukrishnama Naidu died in 2018 while Nehru died in 2017.
The ruling party has kept the names for 49 Assembly constituencies pending. The TDP chief was busy holding consultations with party leaders and aspirants to finalise the names.
The party is also yet to announce candidates for Lok Sabha elections. Polling for the 175-member Assembly and all 25 Lok Sabha seats is scheduled on April 11.
Among the 126 candidates announced, the party has retained 83 MLAs. While 14 MLAs who had crossed over from opposition YSR Congress have been fielded, three have been denied tickets.
The list includes 15 women.
Among 72 candidates from Other Castes (OCs), as many as 32 are kammas, a politically dominant community to which Chandrababu Naidu belongs. There are 30 candidates from backward classes, 18 from scheduled castes, four from scheduled tribes and two Muslims.