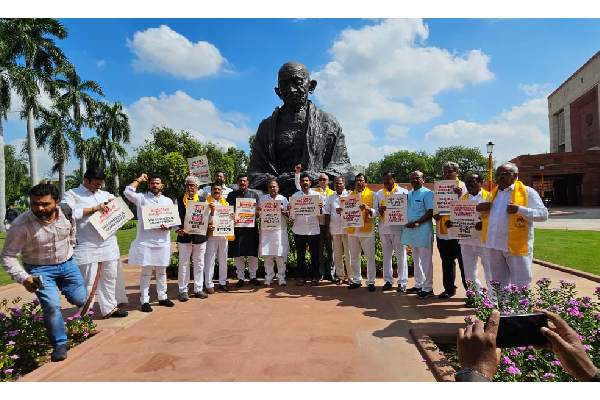 On the opening day of the special session of Parliament on Monday, the Members of Parliament (MPs) representing the Telugu Desam Party (TDP) staged a protest demonstration near the Gandhi statue on the precincts against the illegal arrest of their party supremo and former chief minister, Chandrababu Naidu.
TDP general secretary, Nara Lokesh, and some former MPs too participated in the protest. Carrying placards containing demands like 'Save Democracy, Release Chandrababu Unconditionally and Remove False Cases,' they raised slogans like "Save Andhra Pradesh, Save Democracy and We Want Justice."
The MPs demanded that the illegal cases registered against Chandrababu Naidu be lifted immediately and save democracy in the State. Rammohan Naidu, TDP MP, said that democracy is murdered in Andhra Pradesh and Chandrababu is illegally arrested by misusing power.