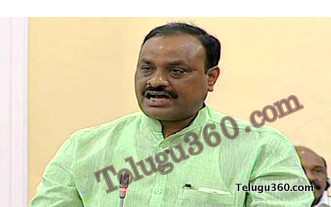 As cash-for-vote scam involving TDP legislator from Telangana region is intensifying with ACB reportedly getting a letter from the election commission asking its sleuths for a stringent probe, TDP leaders are trying to use all their brahmastrams.
It is known that TDP folks recently brought in section eight of AP Reorganisation Act into the picture. As Governor ESL Narasimhan is not responding despite TDP supremo Chandrababu meeting him time and again over the implementation of governor's law and order in Hyderabad, the party leaders chose to target ESL Narasimhan, the constitutional head of the state.
TDP senior leader Acham Naidu recently, in a press meet, addressed the governor as 'you' (without a pinch of respect) and said that he was acting as a 'gangireddu' (meaning a bull). Lashing out at governor, Acham Naidu said why governor was tight lipped when KCR said that Andhra Pradesh police cannot execute their duties in Hyderabad.
Centre Serious:
The Centre, which noticed these severe objectionable comments made by Acham Naidu against the governor of Andhra Pradesh and Telangana states, has reportedly warned AP chief secretary that TDP leaders were launching verbal attacks against the governor.
Acham Naidu Apologizes and Withdraws:
After learning that Centre expressed its serious concerns over derogatory comments he made against governor, Acham Naidu spoke to the media and said that he was apologetic about the statements he made. He elucidated that he made those remarks only in agony after he looked at the situation of Andhra Pradesh. In case my statements had hurt governor, I withdraw them immediately, added Acham Naidu.
Need for Naidu to Control Leaders:
It is known that TDP leaders are speaking whatever they want that are sometimes lacking logic and sounding contradictory. Earlier, Parakala Prabhakar, who spoke about cash for vote scam has said that the voice in the audio tapes was not that of Chandrababu Naidu. Shortly, Yanamala Ramakrishnudu said that the audio was fabricated. 
Even as these leaders continue to make contradictory statements, TDP MLC Somireddy went a step ahead and said that TRS was obstructing the bail of Revant Reddy. How can a political party influence the court was the question then. He was allegedly trying to send wrong messages to people on courts, which was again a matter of serious concern,
This confusion among leaders must be curtained. It is high time for Chandrababu Naidu to bring in a proper code of conduct within the party. Verbal attacks on political leaders are at times acceptable as criticism, however, using the same policy for courts, constitutional heads and constitution is highly not acceptable.