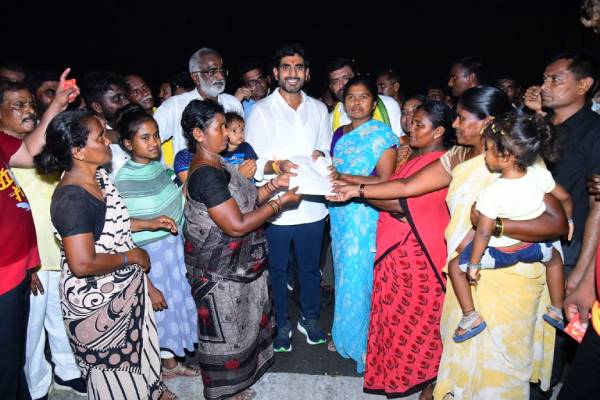 "In order to help the jobless youth our leader, TDP president, N Chandrababu Naidu, has announced Rs 3,000 as unemployment allowance per month and we will certainly fulfil the promise immediately after forming the coming government. Also, a job calendar will be released every year to fill the vacant posts in various government wings," said TDP general secretary, Nara Lokesh, on Thursday.
Observing that Jagan Mohan Reddy has come to power by making false promises to the people, particularly the unemployed youth, Lokesh pointed out that 470 youth resorted to suicide as they got totally depressed and disappointed since Jagan did not take any initiative to fill the vacant posts.
"I am making a promise now that soon after the TDP forms the next government industrialists and IT companies will be invited to set up their units in the State thus providing about 20 lakh jobs," Lokesh told the youth who met him at the temple of Lord Anjaneya in Proddatur during his pada yatra.
Expressing serious concern that the coaching taken by the youth to appear for competitive exams by spending thousands of rupees has become a mere waste, Lokesh said that the coming TDP government will certainly come to the rescue of the jobless youth.
The TDP general secretary made an appeal to the younger generation to extend their cooperation to bring back Chandrababu Naidu as the chief minister.
Earlier on his entering Proddatur town, Lokesh was given a rousing reception by the locals, the TDP leaders and party activists. To have a glimpse of Lokesh, the locals gathered in large numbers and massive crowds are seen on either side of the road as Lokesh is on his pada yatra. Many people tried to talk to him to bring the local issues to his notice.
The representatives of Budaga Jangalu community, in a memorandum submitted to Lokesh complained that though the JC Sarma Committee, constituted in 2019 has submitted its report in 2020 the panel recommendations have not been accepted yet. They sought the TDP's cooperation for their struggle for self-respect, social justice and recognition in the political arena.