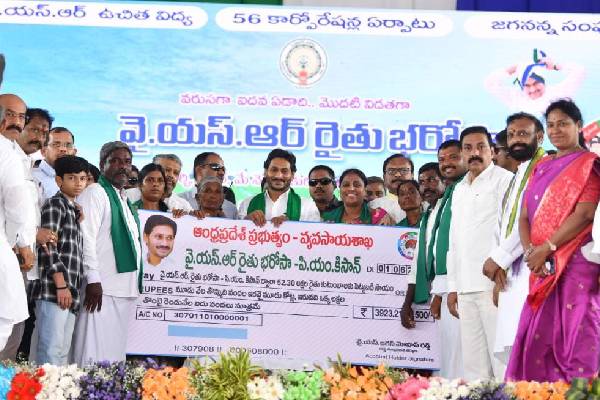 Chief Minister Y S Jagan Mohan Reddy released Rs 3,923.21 crore under YSR Rythu Bharosa-PM Kisan benefiting 52,30,939 farmers at Rs 7500 each across the State. The amount, released as the first tranche for the fifth consecutive year, would be directly credited into their bank accounts.
The Chief Minister also released Rs 53.62 crore towards input subsidy to compensate for the crop loss suffered by 33,851 farmers due to natural calamities. Input subsidy is paid at the end of each season in which the crop loss occurs.
Addressing a public meeting at Pattikonda on Thursday before releasing the amount with the click of a button, the Chief Minister reiterated that the Government has been implementing various welfare schemes for farmers as the wellness of the State and the country depends on the wellness of farmers.
Out of the Rs 7500, Rs 5500 will be credited now as the State Government's contribution of YSR Rythu Bharosa and the remaining Rs 2000 will be credited soon when the Centre releases its PM Kisnan contribution, he said.
He observed that Government has paid Rs 30,985 crore under YSR Rythu Bharosa-PM Kisan alone in the last four years benefiting each farmer Rs 61, 500 while 22.74 lakh farmers received Rs 1965 crore towards input subsidy.
The government has so far spent Rs 60,000 crore on procurement of 3.09 crore tons of foodgrains as against Rs 40,000 crore incurred on procurement of 2. 65 crore tons of food grains during TDP rule, said the Chief Minister, adding that the procurement arrears of Rs 960 crore of the TDP rule were also cleared.
With the revolutionary changes introduced by the Government in the agricultural sector in the last four years and 10,778 Rythu Bharosa Kendras (RBKs) extending services from sowing seeds to harvesting crops to marketing their agricultural produce, paddy and horticultural production went up to 165 lakh tons and 332 lakh tonnes per year from 153 lakh tons and 228 lakh tons respectively in TDP rule, he said.
The Chief Minister said that rural landscape has been changing fast with RBKs handholding farmers at every step and extending e-cropping, soil testing, social audit and other services.