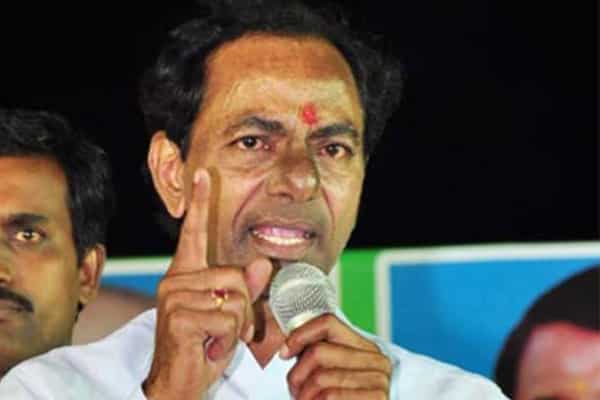 Taking a serious note of the alleged illegal transfer of 796 acres of government land to private individuals, Telangana Chief Minister K Chandrasekhar Rao on Tusday ordered a CID inquiry into the matter.
"The CM discussed the issue of 796 acres of government land registered to private persons in Medchel district. He wanted the officials to take firm action against the guilty and CID to probe it in depth," a release from Rao's office said.
The Cyberabad Police have arrested a sub-registrar and two directors of different real estate firms for allegedly transferring government land to private companies and causing losses to the state exchequer.
R Srinivasa Rao, sub-registrar of Kukatpally, and P S Parthasarathi and P V S Sharma, directors of the two firms, were arrested on Monday for alleged illegal transfer of government land in Miyapur village on the city outskirts, a Cyberabad police release said.
Meanwhile, one more sub-registrar was arrested by police on Tuesday on charge of registering properties violating provisions of Registration Act 1908 and allegedly causing a huge loss in crores to the government exchequer.
T Ramesh Chander Reddy, who earlier worked as Sub-Registrar at L B Nagar, registered three sale deeds for 10,950 Square Yards land that were executed by M/s South India Research Institute Pvt Ltd represented by G Subba Raju in favour of Sama Narasimha Reddy and others, Rachakonda Police Commissioner Mahesh M Bhagwat said.
"The property is located near national highway and as per the present market value, the sub-registrar has to collect stamp duty at Rs 35,000 per sq yards, but he adopted the market value at Rs 13,000 per sq yard and caused loss of Rs 1.45 crore to the government," the commissioner said.
During his tenure as sub-registrar at L B Nagar, Ramesh had registered number of immovable properties in various documents by violating provisions of Registration Act, 1908 and caused huge loss to the state government exchequer, he said.
On a petition lodged by P Subba Rao, Registrar of Ranga Reddy District, a case under relevant IPC sections and under Prevention of Corruption Act and Indian Registration Act, 1908 was registered against Ramesh, Bhagwat added.
The CMO release said two sub-registrars have been suspended in connection with the irregularities. Another sub- registrar had already been suspended and arrested.
Favouring "cleansing" of corruption in registration department, Rao announced immediate abolition of `anywhere registration system' related to properties.
He directed Anti-Corruption Bureau (ACB) officials to keep a close vigil on the activities in sub-registrar offices all over the state and investigate the irregularities.
In another decision, the CM directed withdrawal of certain special discretionary powers given to sub-registrars and registrars.
The government received information that 'benami' transactions are not being uploaded on to the system by some officials in collusion with those registering the documents and the police department has been asked to form 'Flying Squads' to check such practices, the release said.
Rao said there is no truth in reports in some quarters that certain government land had gone into the hands of private individuals.
Noting that registering state-owned lands in the name of private persons is illegal, he said some persons got such properties registered to obtain loans from banks.
The registration had been cancelled after the matter came to the notice of the government, he said.