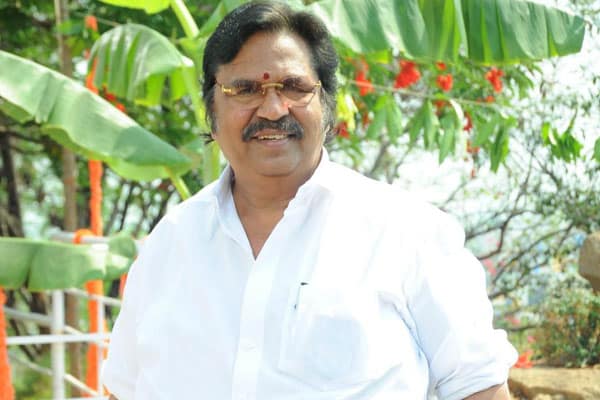 Dasari Narayana Rao used to be the last speaker in any proceeding that needed expert commentary on a personality or a celebration. Why? He always had ways with words to have the last word on any subject, especially when it came to Tollywood. But today, the thespian is no more and nobody else can match him ever in having the last word, least of all, on himself. How will you describe Dasari? As a director? He directed over 150 films to enter the Guinness Book of World Records. None of the existing greats can ever beat that. As a writer and a lyricist? He wrote for over 250 films and also gave us some of the most poignant lyrics for hit songs, some of which sung by SPB and Yesudas are being beamed by TV channels pouring tributes to him. As a multi-purpose director? He was almost non-pareil here; titles used to roll with his name in the last as story-screenplay-dialogues-songs-direction. As a director's director? He was always protective of the turf of directors and held it high without getting carried away by the fortunes of the movies he directed. His own dedication to the craft of directing earned him a special status that director is as good and indispensable as a producer and must be respected always for steering the film to release. As a champion of Small-budget films? He was always there fighting for the cause of small-budget films. He debuted as a director with a sensational starcast which defied the order of the day and made a silver jubilee hit of that.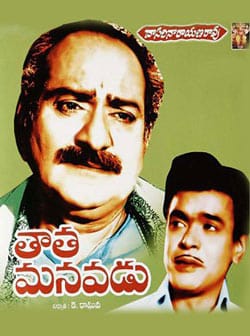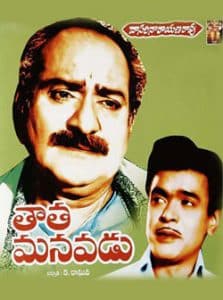 ("Tata Manavadu"). As a politician? He was successful as a politician rising to the top as a Union Minister without having the charishma of a matinee-idol and reached levels which Superstars and Megastars could only dream of. How will you describe Dasari Narayana Rao then? Most titles like "Darsaka Ratna", "Bahumukha Prajnasaali", "Captain of the Ship" and "Dig Darsaka" will be ornamental but they only convey half the story. The other half of his personality and the reservoir of his encyclopaedic knowledge remain vastly untapped and unexploited. He should be celebrated as one of the most prolific film-makers in the history of Cinema with multiple dimensions that conveyed his command and edge over the film-making crafts which laid a strong foundation for several path-breaking films and careers of several actors, technicians and other directors. He should also be enshrined for being a mentor to so many producers, technicians and stood like a bedrock for over five decades to several old-timers and newcomers who were at sea when it came to reading the big picture in Tollywood as to where the industry is headed.
As a commentator who ingested all the trends that preceded and were running course parallel to his existence, Rao was the most omniscient and prophetic as to where the industry was headed and how to usher in changes that wouldn't harm us. Or, he used to warn us where the dangers lay and gave us ready-made perspectives that helped us to navigate the landscape of the film industry that is always in a flux. No matter what his affections or proximity to any personality, Dasari never minced words. He was always the most-outspoken and iconoclastic film personality that the Telugu Film Industry will ever have seen.
Even after making two blockbuster films with the late N T Rama Rao ("Bobbili Puli" and "Sardar Paparayudu"), he was the first one to slam him for introducing the slab system of entertainment tax. In many ways, it was a devious mechanism introduced by the late NTR to ensure that no new threats can challenge the oligarchical order of the day and hence no small film survives beyond the first few days because the tax was levied on the basis of an assumed percentage of occupancy rather than on the actual number of tickets sold (the latter would have ensured the exhibitors and distributors gave more run-time to budget and low-star-cast films.
Before his debut film "Tata Manavadu" (Grandfather-Grandson) was released, he was already working feverishly hard as an Assistant Director, Production Manager, Part-time teacher in Hindi and English, Part-time typist in High Court, Part-time Accountant in a firm. He got his first break from an equally humble producer K Raghava who was all-in-one: a trolley puller, stuntsman, light boy, dance composer, etc. K Raghava agreed to introduce Dasari Narayana Rao as a director because he saw the boy had raw talent and a penchant for honest story-telling on screen. But he had an issue, there was no budget to hire some of the better-known heroes of the day Sobhan Babu and the well-known Nagabhushanam who was commanding a premium remuneration. Instead, Dasari offered the role to comedian Raja Babu and Kaikala Satyanarayana which became renowned roles. If there is an instance of fearlessness, it had to start from his debut film itself. And so goes the story that after casting the legendary S V Ranga Rao as "Thaatha", Dasari had to shoot the introduction scene of SVR which was shot no.99 in his scheme of things. He sent his Asst Director to Ranga Rao and narrated the dialogue to be uttered by the latter. Ranga Rao said there is no need for such a long dialogue and abridged it. When Dasari confronted him saying, he had already visualized everything before and discussed with his team of assistants and producer, Ranga Rao walked away from the sets. When he didn't return, Dasari wanted to get Rao Gopal Rao in his place. And on the next day, Rao Gopal Rao went into the van to don grease paint as "Thaatha" only to find the legendary Ranga Rao seated already, ready for shots. Shocked, Rao Gopal Rao covered himself saying he just came to greet him. And after that when Dasari apologized to SVR saying he may have been too rigid to insist on long dialogue for SVR, Rao said," It is okay, young man. I am impressed by your guts and conviction. A director should be like that only. You will rise to heights from where you will command the Telugu Film Industry." True to SVR's words, Dasari rose to dizzy heights after "Thaata Manavudu" which became a silver jubilee blockbuster. Made in just 35 days with a monthly salary of Rs.200, Dasari ensured the film was made in a budget of just Rs.5 lakhs (in 1973). And never looked back.
For many years, Dasari was working on four to five shifts a day with the number of Assistant Directors reaching almost 40 which itself will remain an unassailable record. He never abandoned any project, never let cost-escalations mar the film's break-even chances and had quite a few silver and platinum jubilee hits besides blockbusters. A number of directors including Krishna Vamshee, Vijaya Nirmala, Kodi Ramakrishna, Relangi Narasimha Rao, Muthyala Subbayya all owe their form and success to him. There are numerous others who attribute their knowledge of the craft to his style of directing. Even Ram Gopal Varma once famously said that he rates Dasari as the best director in weaving characterisations. But what was Dasari's style of directing?
His style was to select themes that resonated widest with the audience without titiliating or lowering standards of entertainment. His films had imagery that merely mirrored the wave of changes and emotions sweeping the society at that moment but there was always a backdrop of humanity and goodness about them. He was particularly skilled in exploiting the gaps in human understanding and human relations, between wife and husband ("Yedanthasthula Meda"), between parents and children ("Thaatha Manavudu", "Bahudurapu Baatasaari"), between mother and the rest of the family ("Amma Raajinaama"), between father-in-law and son-in-law ("Maamagaru") , between same-sex friends and the friction it caused to the wife of one of the friends ("Deeparadhana"), between wife and husband ("Balipeetham"), between father and son ("Gorintaaku"), between two thick friends ("Krishnarjunulu"). When he was not commentating on the breakdown of the social order caused by disruptions to the aforesaid human relations, Dasari went on to examine and exorcise the unexplored dimensions of the human mind and the tricks it will play to deceive and delude humans. Examples of such films are "Korikale Gurraalaithe", "Swargam Narakam" and "Needa".
Or, he would make complex biopic or semi-biopics about lives that reveal a telling commentary on state of affairs like "Sivaranjani", "Bobbili Puli", "Sardar Paparayudu", "Osey Ramulamma", "MLA Edukondalu". He never made films for awards because he only strived to give a realistic portrayal of what's going on – an equivalent in today's world of the Facebook status of "What's on Your Mind?". And thus came a prolific outpouring of films and themes that practically explored the dimensions of most complex emotions. Whenever he felt someone expressed an emotion or a theme that resonated with him strongly, he blindly chose to remake it, giving himself a chance to re-interpret the work of another master. Examples include "Kalyani" (remake of Hrishikesh Mukherjee's "Abhimaan") and "Thoorpu Padamara" (remake of K Balachander's "Apoorva Ragangal"). "Amma Raajinaama" was based on a Marathi Play which had over a thousand presentations. Because of a burning desire to send social messages through the medium of cinema, Dasari had worked and perhaps over-worked, probably slowing down only in the last few years. He was working at such a feverish pace that the late Akkineni Nageswar Rao once famously remarked at a public function to felicitate Dasari that "If I ever had the authority to do so, I will have Dasari garu arrested." And then went on to explain why he would have given more quality films had he reduced the output as well as the number of working hours. Because ANR felt, even the best of Energy-generators couldn't be over-loaded without a breakdown. But that breakdown never really happened to Dasari from his first film "Thaatha Manavudu" to "Yerra Bas". He worked relentlessly, and unoblivious to the stardom that his own directing style has commanded. He was a producer's director and never wore a "Master of the Universe" attitude on his sleeve like today's World-Conquerors do.
He did multi-starrers, zero-starrers, and low-fanfare, low budget films. He had seen epic successes of films which ran for over an year in theatres like Sudarshan 70mm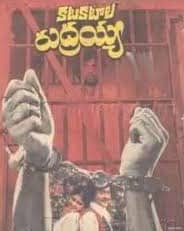 ("Katakatala Rudraiah", "Premabhishekam") but also gross failures with heroes like Chiranjeevi and Balakrishna. But with the older generation, excepting for Superstar Krishna (who regrets Dasari never gave any superhit for him), all other actors owe a blockbuster or two to Dasari. In order to prove a point that he can deliver movies which are squeaky clean and classy and award-winning-type, he directed "Megha Sandesam" shot with artistic fervor and picturesque beauty. The film had its moments of sunshine with soulful music by Ramesh Naidu and performances that stick out by ANR, Jayaprada and Jayasudha but failed at the box office. Yet, Dasari Narayana Rao never regretted the choices he made in direction and casting and the technical collaborations he made with few technicians who repeated magic in many of his films.
One such maestro was Ramesh Naidu who owes the best output of his life to Dasari's films. Even when the irrepressible Ilaiyaraja and MS Viswanathan were the choices for the remake of "Apoorva Ragangal", Dasari chose Ramesh Naidu alone for his cult film "Thoorpu Padamara" and C Narayana Reddy for writing lyrics. Even when there was a temptation to re-use some of the hit songs in "Apoorva Ragangal", Dasari gave freehand to Ramesh Naidu and Cinare to create original and melodious music that turned out to be hugely popular those days. It speaks of the commitment to nativities of the Telugu language and when it comes from the captain of the ship, everything is in its place.
Another highlight of Dasari's filmography is the sharpness of the titles he put. If you were well-versed in Telugu idioms and the essence of everyday expressions, you cannot miss the irony or the hidden subtext or the summary of the entire story in one word or phrase that represented the title of his films.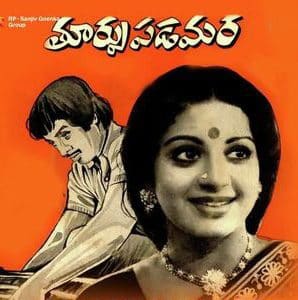 "Thoorpu Padamara" (Why the 'Twain shall never meet, conveyed the essence of what happens when improbable relationships exist between say, a father-in-law and a daughter-in-law or say, a mother-in-law and son-in-law), "Edanthasthula Meda" (A house of Seven floors but built on an edifice of love deficit), "Korikale Gurraleithe" (What if wishes were galloping away like horses), "Dharmapeetham Daddaralindi" (A verdict which shook the judiciary) or "Kante Kooturne Kanali" (Beget only a girl child). Today's movie-makers will no doubt stand to benefit from the vastness of Dasari's filmography and gigantic output which defied many conventions, traditions and permutations of the day. Dasari straddled the many worlds as a colossus, always standing by what he believed to be right and just, taking up cudgels on behalf of weaker mortals who didn't have the hegemony or the legitimacy to fight their battles.
As an actor too, he was always there in cameo roles and expert commentator to steer a film's message to its rightful essence. While "MLA Yedukondalu" and "Maamagaru" and "Hitler" were some of his better known roles, many other films showed him to be essaying loud and sometimes repulsively crass characters – which even actors like Kamal Hassan credit to have been influenced by. There were many who wished Dasari would return as an actor one day in films not necessarily directed by him and Dasari returned only occasionally, more in a song which makes a lot of song and dance about social problems like casteism, oppression, corruption etc. But he was mature enough to realise his magic worked better as a director than as an actor. He knew he over-acted but never reined in his exaggerated slang to convey things he wanted to speak through his own character on screen. Many years later, one producer wanted to exploit the potential of two "over-acting" actors and thus came a film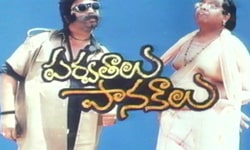 "Parvathalu Panakalu" starring Dasari and SPB. But to be fair, Dasari is credited to mentor and herald the coming of many new actors, some of whom thrived but many others withered away because of lack of endorsement by others in the film industry. Examples include the likes of Dr Mohan Babu, Murali Mohan, Maada, Chalam, Rama Prabha, Gokina Rama Rao, Hariprasad, Subhashini etc. Of all the above, Dr Mohan Babu and Murali Mohan were the only heroes who created some impact on the industry with their work and talent.
Surprisingly, despite producing over 53 films under "Thaaraka Prabhu films", Director Dasari Narayana Rao never took the launch of his own son Dasari Arun Kumar seriously which speaks more of the fact that Dasari never believed in dynastic succession games. A few films starring Arun Kumar bombed and that didn't egg the father on to make stronger films or nudge his vast discipleship gang to "deliver" a hit film for his son. That itself is a lesson that no body follows in the TFI today. As a father-figure to many, Dasari Narayana Rao's legacy is that he worked with almost all the top stars of our era in various films he directed. That includes Rajinikanth, Kamal Hassan, Chiranjeevi, SVR, NTR, ANR, Krishna, Sobhanbabu, Krishnamraju, Rajesh Khanna, Sanjeev Kumar, Sridevi, Jayaprada, Jayasudha, Sujatha, Rekha, Savithri and so on. That makes him an accomplished director of sorts.
Having tasted successes and many awards including Filmfare etc, Dasari's life was, however, not free from controversy. He used to face repeated charges of plagiarism from song-writers and story-writers who claimed he stole their work. Even when the famous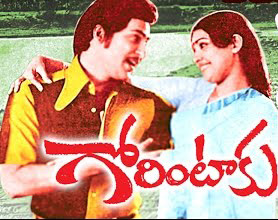 "Gorintaku" film became a runaway hit, there was a court case claiming the original story was somebody else's. But it must be said it was Murari Katragadda, the producer who was also allowed to debut as a screenpolay writer which shows in the credits. There was also a string of allegations that said Dasari is desecrating the craft of directing by allowing spot improvisation take over shooting of the film. While he could do with meticulous planning and cost controls, others couldn't do and you see examples of directors going haywire with their spot improvisations like Krishna Vamshee.
Controversies and daring acts never left Dasari outside reel life too. During the heydays of NTR regime, in order to build responsible journalism, Dasari started atleast three new press publications – "Udayam" (a Telugu daily), "Bobbili" (a monthly ) and "Jyoti Chitra" (a Telugu film-based weekly). While "Udayam" succeeded and grew in popularity, it later folded up after many years of successful run. Ditto for "Jyoti Chitra", the only Telugu weekly which gave serious competition to "Sitara" (run by Ramoji Rao of Eenadu group). But several of today's distinguished film journalists like BK Easwar, Pulagam Chinnarayana and Bhagiratha were all byeproducts of the press institutions once created by Dasari Narayana Rao.
Controversies also never left Dasari in creating occasional fissures between his relationhip with Mohan Babu as well as Chiranjeevi, both of them kinsmen of different kind. Or the immature outburst of Ramcharan against Dasari which drew censure and opprobation from everybody. Many attribute the masterminding of Chiranjeevi's daughter's elopement to Dasari in order to split the community vote before Chiranjeevi's foray into politics. Dasari supported the marriage much to the chagrin of Chiranjeevi where the Megastar had to depose before Delhi High Court to not cause any harm to his erstwhile son-in-law. Similar controversies also greeted Dasari as Coal Minister in his last stint under UPA regime with leading experts like P C Parakh openly criticizing Dasari's coal policies for the mess of scams surrounding the UPA government. That the noose has tightened around Dasari is clear and the end at 75 will give a lot of relief to his family that there may not be further embarrassment to the tireless thespian who never, ever rested except in death.
His legacy is not just his vast and unsurpassable filmography but also his legions of disciples, and mentees , and lovers of good and meaningful cinema whether it is a small film or a big film. In his times, even a small film delivered a death-blow and proved to be a giant-killer to many star-struck films. For all that and the countless soundbytes and well-meaning advice that Dasari Narayana Rao kept giving till his last breath, we all need to give Dasari Sir a fitting farewell. That famous cloud that carried the name Dasari Narayana Rao in movie posters has always stood for respect and reverence. Today, that name has vanished into the worlds up above those clouds. But as Puri Jagannath rightly said, "Legends live forever." If the Telugu Film Industry can become better and more productive in ways to make more people's lives rewarding, we need to keep revisiting Dasari garu's legacy of work and messages, again and again. May God grant him peace in life after death.