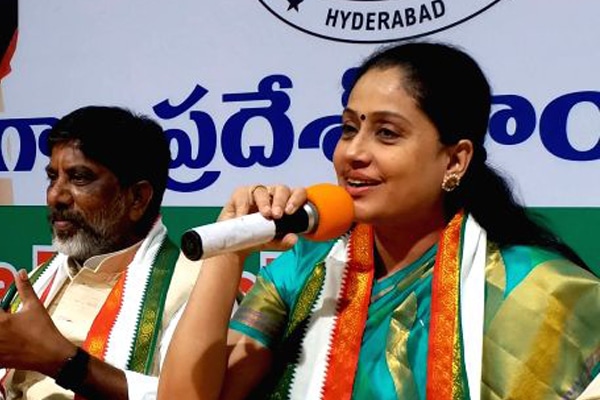 Vijayashanti of Osey Ramulamma fame is not going to contest in 2019 elections in Telangana but she will be rendering her services as the star campaigner for Congress-TDP alliance there. Once the Lady Amitab of South Indian film industry, Ramulamma could not get a similar success in political scene going by her increasingly low-profile these days.
Having vowed to defeat TRS, Vijayashanti has met Congress President Rahul Gandhi recently and explained to him how she would be touring the nook and corner of Telangana as part of her election campaign. She also indicated her unwillingness to contest elections this time. She has been telling her followers and friends about her decision to stay away from electoral politics without giving any obvious reasons for this.
Insiders say that Vijayashanti has taken this decision considering the fact that she will not be getting a winnable seat of her choice because of the party facing the issue of seat sharing with alliance partners. Moreover, she has no friendly relations with any leader in newly found ally, TDP.
Despite the actress's decision, Congress leadership is keen to use the services of Vijayashanti in campaign as she still carries enough charisma among the rural masses in Telangana who remember her for her excellent presentation of lead role in the film Ramulamma. The party high command also supported her star campaigner status.
Vijayashanti also has old political scores to settle with KCR as he has thrown her out of TRS without giving any reasons for that. At that time, the actor-turned-politician has claimed that KCR was afraid that KTR and Kavita would not get an elevated image as long as Vijayashanti is in TRS.
In politics as in films, necessity scores over need sometimes and Ramulamma is not an exception for this.