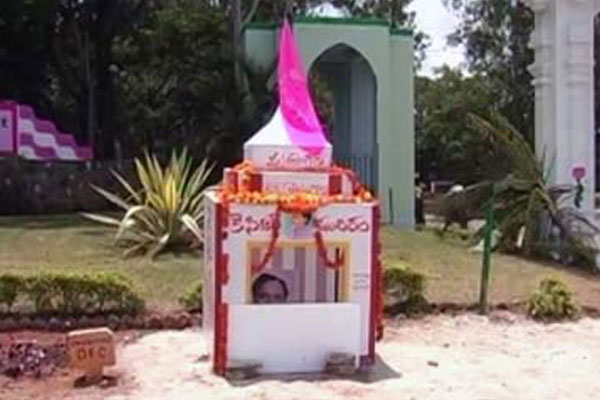 A temple has been built for Telangana chief minister K Chandrasekhar Rao at Dandepalli village, Lukettipet, Adilabad district. Local TRS leaders Gunda Ravinder has built the temple with his own money to demonstrate his respect for the leader, who realized the long cherished dream of Telangana people- a separate state.
According to media reports, Ravinder, along with his wife has inaugurated the temple on Wednesday, on the occasion of KCR's birthday. The consecration of the presiding deity had taken place with all rituals amid the chanting Vedic hymns by pundits in the presence TRS workers. MLA Puranam Satish cut the cake and congratulated the builder of the temple for his bold decision. Ravinder reportedly spent about a lakh of rupees on the construction of the temple.
Not only a TRS worker, Ravinder is devotee of KCR and he wears a gold chain containing a locket with the image of KCR.
This is the second political temple in Telangana, the first being the temple built for AICC president Sonia Gandhi for making the Telangana state a reality. Sonia's temple was built by the Karimanagar Congress party in Mallial town in June 2014.
The temple has a marble statue of Sonia Gandhi. The portraits of Indira Gandhi and Rajiv Gandhi also adorn the walls of the temple. The temple was inaugurated on June 4, 2014 in the presence of former Karimanagar MP Ponnam Prabhakar, Jagityal MLA T Jeevan Reddy and former MLA Suddala Devaiah.
Former Congress minister Dr Shankar Rao also tried to build a temple for Sonia Gandhi near Hyderabad. The effort fizzled out due to political problems Shankar Rao faced later.