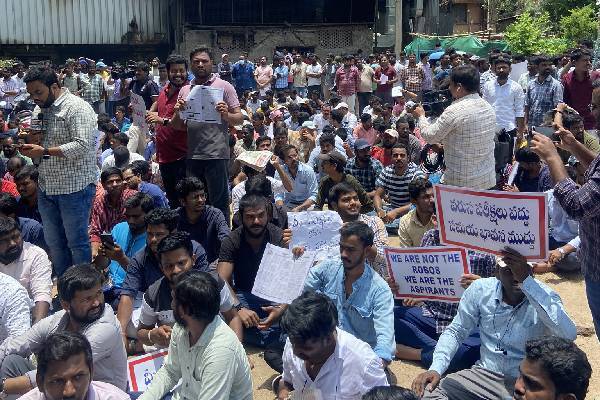 The atmosphere at the TSPSC (Telangana State Public Service Commission) office was charged with tension today as a multitude of candidates, along with student unions and political groups, attempted to surround the premises. The focal demand of the protest was the postponement of the Group 2 examination to a more suitable date. Here are the details.
Issue from Exam aspirants point of View:
For several years, students and unemployed individuals in Telangana have been earnestly preparing for competitive exams. Although there were relatively fewer notifications released in the past four years, a surge of notifications and exam schedules occurred in the final year of the ruling government. The contentious issue emerged due to the Telangana Residential Educational Institutions Recruitment Board's decision to conduct Gurukula exams from August 1 to 22, followed by the Group 2 exams a mere week later on August 29 and 30. Furthermore, Junior Lecturer (JL) exams were also slated for the same month. In the wake of these consecutive exams, candidates found themselves grappling with inadequate preparation time. Despite expressing their concerns, the TSPSC remained firm in maintaining the existing schedule. Numerous student organizations and unions have collectively appealed to the TSPSC for a rescheduling. As the impending exam dates drew closer, thousands of Group 2 aspirants converged at the TSPSC office premises to stage a protest. Extending their solidarity, political parties like the Congress and Telangana Jana Samithi came forth to support the candidates. The protest saw participation from prominent figures such as Professor Kodandaram and Addanki Dayakar.
Issue from TSPSC point of View:
Simultaneously, the TSPSC grapples with its own challenges in finalizing examination schedules. The commission aims to conduct exams on holidays to minimize disruption to schools and colleges, which are used as examination centers. However, boards getting approvals for multiple exams in the last one year has proven to be a hurdle. Allegations have arisen that the ruling parties are influencing boards to issue multiple notifications in the last one year of their ruling instead of spacing them in the span of 5 years of the ruling.
Currently, the situation remains tense at the TSPSC office, with law enforcement facing challenges in managing the crowd and redirecting traffic.