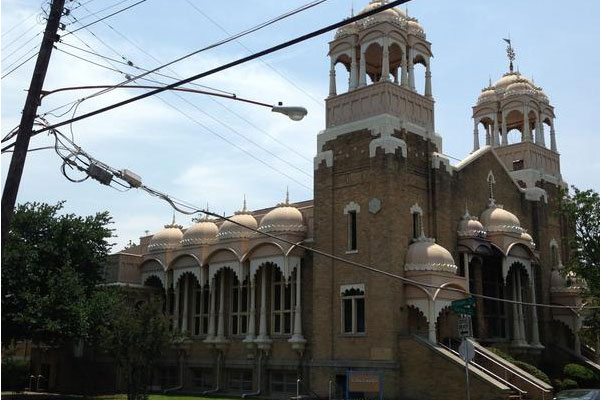 Two burglars locked a priest inside his room and went on to steal temple property worth several thousand dollars. The Dallas police are currently searching for them. The robbery took place on June 13th at Texas Krishna Temple which is located on Gurley Avenue, Old East Dallas. The surveillance shows that at around 10 p.m., 2 Latin males entered into the temple through a back door. One of the burglars ended up exposing his face to the camera despite using his shirt in the form of a hoodie. Upon learning that one of the temple's priests was sleeping in his room, the burglars blocked his bedroom door with a TV and multiple chairs. They got away with the priest's computer as well as cash. A spokesman for the Temple revealed that the burglars checked to see if the priest would wake up before deciding to block his bedroom door. Footsteps were found beside the priest's bed.
Upon waking up at around 11:30 p.m., the priest heard the burglars rifling though his belongings on the other side of the door. He couldn't open the blocked door despite his best efforts. The priest, Kesava Bharati Maharaja, was reportedly relieved that he didn't wake up when the burglars were checking on him. He believes that he could have been killed or injured if he woke up at the wrong moment. The surveillance video also shows that the burglars did their homework before proceeding with the robbery. They staked out the temple earlier in the night by walking through the parking lot and taking note of things.
In addition to the computer and cash, the burglars also made away with around $8,000 worth of tools like a saw and tile cutter which were cabled to a pole. The Texas Krishna Church was built in the neighborhood in the 1970's and is very popular for its vegetarian food in Dallas. During the temple's early years, crime in the neighborhood was frequent. But in recent years, it has been pretty peaceful.