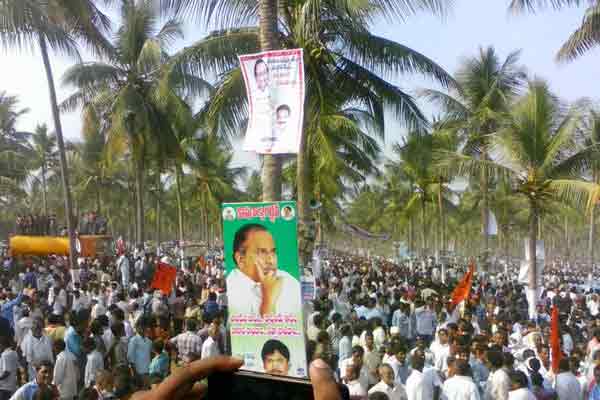 Deploying caste for political gains has been the principal ingredient of Andhra Politics since pre-independence days. Barring chief ministers like Damodaram Sanjeevaiah, Andhra Pradesh chief ministers from Neelam Sanjeevareddy to Chandrababu Naidu used caste  to empower themselves and their castes-both with politically and economically. They took every step to 'casteise' the administration by bringing officials of their caste from other All India Services. The promoted their caste contractors and businessmen. This tendency reached pinnacle during the days of YS Rajasekhar Reddy , when some Congress leaders even  went to the extent of sending a list of Reddy officers Rajasekhar Reddy brought on deputation to Andhra Pradesh, to Congress president Sonia Gandhi in 2008. Some of the officers were even absorbed into state government. This policy is being carried forward with renewed vigor by TDP patriarch N Chandrababu Naidu now. A look of the caste of the aides he appointed in recent times 'as advisers', and the IAS officers he brought on deputation would expose the true caste of the Telugu Desam government. This is the reason for 'Amaravati' earning the moniker "Kammaravati'.
All politicians in Andhra Pradesh use caste as political resource. Now, certain Kapus are desperate to exploit this resource to empower themselves in the post-bifurcation context. And main opposition parties are eager to support the demand as it would keep them alive in Naidu's Kamma Raj. Kapu quota is being raised by Kapu leaders and their supporters leaders unmindful of the philosophy behind the categorization of some castes as BCs by central and state governments in the 1960s. What are these castes, what was their economy , what was their social standing-these leaders are not bothered about. All the leaders, TDP, Congress, YSRCP assured to work to endow BC status on Kapus. Even though they were conscious of the problems involved in categorizing a land- owning community as BC, all these parties supported the Kapu quota demand and incorporated it in their poll manifestos. Naidu, in his anxiety to come to power in 2014 assured many impracticable things to people, like loan waiver and Kapu's BC quota. As CM, Niadu now has realized how impracticable the demand is. He knows, even if he categorizes Kapus as BC, some court may strike it down as illegal and the matter would  end up courts. But, till then every political party and personality pretty well aware that they can exploit the quota demand for political gains. Naidu has no alternative but to suffer caste politics he is promoting.
Why Kapus Need BC Quota ?

Forget for the time being whether the Kapus deserve BC quota or not. The demand enjoys political approval. Though quota helps some caste members get benefits in admissions and jobs, the latent agenda of Kapu leaders appear to be purely political.
Kapus are numerically strong community-though statistics Kapus present lack accuracy. The caste is distinctly visible in the creamy layer of the society – bureaucracy, politicians, Industry, film-world etc. A strong elite section is born in the community, which is already a land-owning community. They always compared themselves with Kammas, who are successful in the areas mentioned above and finally captured the political power in 1983, under the leadership of NT Ramarao.  On the other hand, Kapus tried to emulate NTR but failed. Many kapu leaders, thinking that they are numerically stronger to win political power, floated parties and disappeared. Recently, movie star Chiranjeevi, realizing that Kapus alone can't form the government, borrowed social justice concept to build a social alliance with BC, SC, Christians etc. This experiment also failed. Then, his brother Pawan Kalyan floated Jana Sena. The path Pawan Kalyan is going to take in future is not clear for many Kapus. Because, he is an ally of TDP and BJP. He is unlikely to chart an independent course. This is the problem Kapus faced throughout the history of Andhra Pradesh. They are more comfortable in other's parties rather than struggling independently to come to power like KCR etc. Chiranjeevi happily enjoyed power offered by Congress in New Delhi, Pawan Kalyan is basking in the glory of proximity with a chief minister and a prime minister.
The numerical majority claim of the Kapus is not taking them anywhere. If Kapus claim separate identity like Reddys and Kammas, they have to compete with the strong ruling communities. As the Kapus are not able to catapult to Power with separate Kapu identity, they want to become a part of bigger political grouping in the state i.e. Backward Castes. By joining forces with BCs, Kapus, by virtue of their sheer numerical strength, can play the role of "Yadavs" of UP and Bihar, where the dominant Yadav has become the rallying point for OBCs.
In Andhra Pradesh the BCs lack a strong and dominant leading community among them to lead the OBCs, which constitute 40 % to 45 % state's population, to power. The absence of leading community among BC on the lines of Yadav in North India, the BC unity has remained a pie in the sky. So, the dominant Kapus need BC status in order to lay claim on BC votes in future to compete with Reddys and Kammas and wrest power. Would reigning communities among the BCs allow Kapus enter their territory ?
Telugu360 is always open for the best and bright journalists. If you are interested in full-time or freelance, email us at
Krishna@telugu360.com