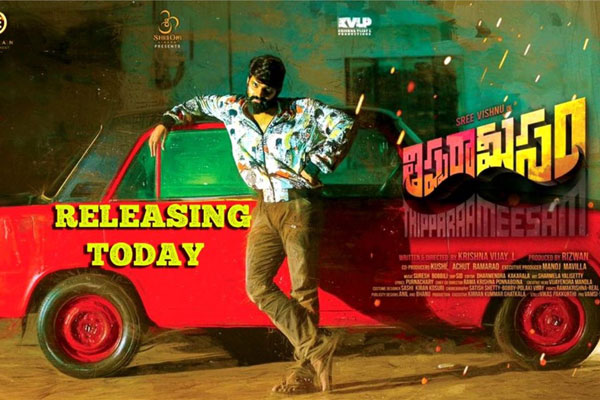 Thipparaa Meesam Movie Review
Telugu360 Rating 2/5
After delivering such a decent comedy 'Brochevarevarura' a few months ago, Sree Vishnu has done a dark movie, a complete contrast to his image. The trailer has stunned us as it is a 360-degree makeover for Sree Vishnu. Will it be an 'Arjun Reddy' for Sree Vishnu? Let's find out.
Story :
Mani (Sree Vishnu), a drug junkie who works as a DJ in a club, has an issue with his mother (Rohini), he hates her to the core. Still, he takes money from her from time to time. To get himself out from a financial mess he was drawn into due to betting, he demands 40 lakhs from her. She hands over him a cheque that gets bounced. He files a case on his mother. What happens from the rest of the story?
Analysis
'Thippara Meesam' has an interesting idea on paper. But the director has indulged in too many of craziest sequences that have made the film hard to watch. Telugu films don't much explore a hero's negative characteristics or dark side. Director Krishna Vijay has taken this path to present a degenerating protagonist in 'Tippara Meesam' but many repulsive and regressive sequences have made the movie an excruciating bore.
A son hating his mother for putting him in the rehabilitation center for his drug habits is understandable but his behavior with his girlfriend, his detached attitude towards his sister and his impulsive nature is too hard to digest. His girlfriend is shown as a trainee police officer. How would a police officer fall for the drug addict DJ so easily?
The weird characterization of the hero and the dark elements in the first half put off the mood. Thankfully, the film becomes watchable towards the final moments. But when the hero's character itself is too dark and negative, how would one get connect to it?
The film should have a crispier. This same story would have made bearable watch if it was more focused on the mother-son sentiment and less about the hero's bad characterization. It is more like an attempt to provide a platform for Sree Vishnu to showcase his intense acting skills.
With slow narration and hardly any bright moment, it frustrates us.
Coming to the performances, Sree Visnu's performance is the highlight. He has given his career-best act. He has put in all his efforts. Terrific makeover it was. He is good as a bad person and also effective in the emotional climax part. Rohini as the mother is the pillar of the movie. Banerjee as a hero's uncle and Josh Ravi as his friend are good.
Technically, the film has good cinematography and decent music.
Positives:
Sree Vishnu's performance
Climax portion
Negatives:
Tedious first half
Hero's repulsive characterization
Slow pace
Lack of romantic scenes or bright elements
Verdict:
'Thippara Meesam' makes a tedious watch with its dragged on narration and dark mood. Sree Vishnu shines as an actor once again but his characterization is regressive to sit through. Except for his performance and climax portions, this film makes an unpleasant watch.
Telugu360 Rating 2/5