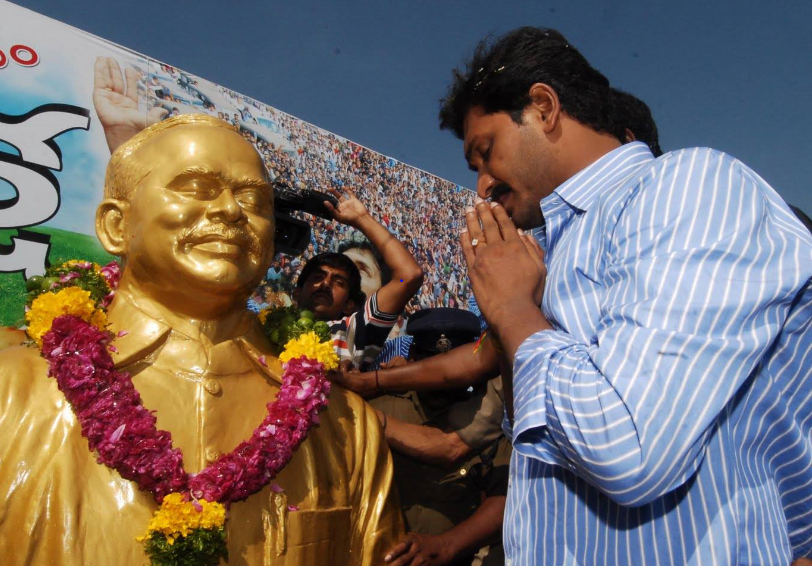 In Telangana, politics always makes strange bedfellows. The enemies forget their past and embrace, and the very next moment brandish the swords to cut throats. This is how politics flourished in the region and going to flourish in future as well. Otherwise, YSR Congress can't be expected of maintaining deafening silence even though chief minister K Chandrasekhar Rao is destroying  the traces of YS Rajasekhar Reddy from the soil of Telangana.
A leader, who never fails to refer to the name of Maha Neta (this is how YS Jaganmohan Reddy addresses his father) has been silent in Telangana on the annihilation of YSR's projects. Why is it that Jaganmohan Reddy, who wants to build his political empire on the legacy of his father, is winking at the acts of destruction of YSR legacy? Is it just because, he wants to take help of chief minister Chandrasekhar Rao, in weakening TDP president N Chandrababu Naidu. His silence lends credence to the talk that Jagan is in league with KCR.
As Jagan is silent, Congress is owning up YS Rajasekhar Reddy in the new state to derive political advantage.
1. Neither Jagan nor his sister Sharmila in her tour in Telangana last month asked if there was need to abandon the Pranahita-Chevella project,  which was the dream-project of YS Rajasekhar Reddy. YRS laid foundation for the project in 2008 and works have been taken up spending thousands of crores of taxpayers money.
It is the Congress which alleged that KCR was obliterating the YSR legacy.  They charged that  KCR had abandoned the project just because it had been initiated by Rajasekhar Reddy.
2. Entire Mahabubnagar district is up against KCR government for setting aside four irrigation projects, Nettempadu, Kalwakurthi, Koilsagar and Bhima in favor of a new project Palamuru-Raga Reddy lift irrigaton project. Congress sounded war bugle against ignoring the project which are in the final stages of completion. According to G Chinna Reddy (MLA Vanaparthi), DK Aruna (MLA, Gadwala), Bhatti Vikramaraka (TPCC working president) a meager allocation of Rs 500 cr – Rs 600 cr was enough to complete these projects.
"If completed, these projects would helpirrigate 8 lakh acres in the district," Bhatti told Telugu360.com. A meeting of Congress leaders held  two days ago at DK Aruna's residence had decided that Congress leaders visit these projects on July 24 and July 25 to study their status and place facts before the people, Bhatti said.
However, from the YSR Congress side, except the lone MP Ponguleti Srinivas Reddy(Khammam), no other leader reacted against  the abandonment of Pranahita-Chevella project in Telangana which people of Adilabad fear would deny water to their district. While the party president Jagan is not keen to  rub KCR on wrong side, as a party, YSRC also failed to take a view on the KCR's decision. Jagan made a feeble voice only once against the taking up of Palamuru-Ranga Reddy Lift Irrigation Project some time back with out referring the four project ignored by TRS government.
Jagan's inaction on the projects is being attributed to  the purported political understanding he has with KCR. Since Jagan sees little future for his party in Telangana, he seems to have settled for an undeclared alliance with KCR, who is hell bent on driving  away Naidu from Hyderabad.
Strangeness of these political games is that KCR and Naidu were friends in  2009 elections and the fell apart after the drubbing at elections. KCR hated YSR to the bone. As long as YSR was in power, KCR did not dare talk Telangana. Later , Jagan openly opposed Telangana. Now, KCR and Jagan  are not enemies, if not friends.