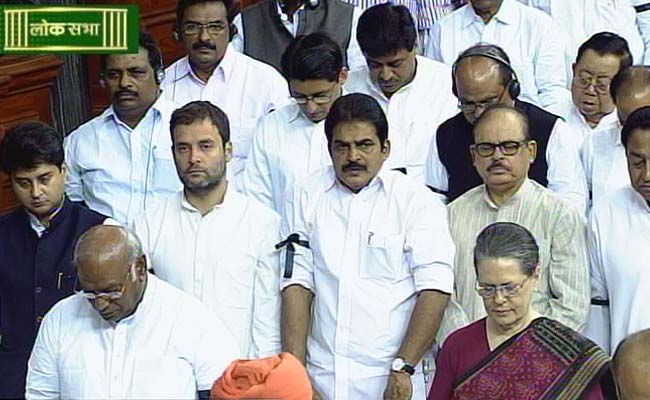 On the second of the Monsoon Session, today, parliament proceedings were disrupted by the opposition parties who demanded the resignation of Madhya Pradesh chief minister Shivrajsingh Chouhan, Rajasthan chief minister Vasundhar Raje and external affairs minister Sushma Swaraj for the connection with Lalit Modi and Vyapam scam in Madhya Pradesh.
TRS MPs also contributed to the din, albeit on different demand, which led to the adjournment of the House. TRS MPs displaying placards demanded setting up of separate High Court for the state of Telangana.
Congress members, including party president Sonia Gandhi, entered the Houses wearing black bands on their arms protesting the inaction from the government. They also rushed into the well of the House.
A warning from the Lok Sabha Speaker Sumitra Mahajan that she would invoke automatic suspension provision  against those who disrupt parliamentary proceedings by shouting slogans and showing placards, instead of pacifying, provoked the Opposition more. Angry MPs from Congress led by Jyotiraditya Scindia, rushed to the well. TRS, SP and RJD MPs followed suit.
Congress members carried placards with slogans  "Modiji, break silence and suspend Sushma" and "Bade Modi Meharban tho chote Modi pehalwan" etc. Neither Prime Minister Narendra Modi nor Congress vice president Rahul Gandhi were present at the times pandemonium. But, external affairs minister Sushma Swaraj has watched the scenes in the house motionless sitting in the front row along with colleagues Rajnath Singh and Ravi Shankar Prasad. Amid the protest from the Opposition the proceedings in the Lok Sabha were adjourned for the day.