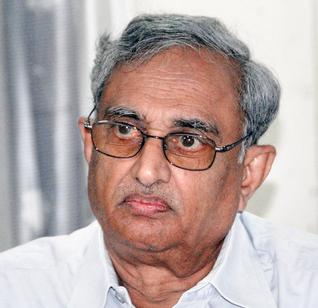 With regard to the reports that CM Chandrababu Naidu asked official to keep the beggars away from Pushkaralu and reward them with Rs 5000 to compensate the loss due to restrictions on begging, former union secretary Dr EAS Sarma says this is wrong.
Dr Sarma has the following to say with regard to the beggars and Andhra Pradesh government.
The State has the Constitutional obligation to identify and rehabilitate homeless beggars in cities and towns as per the landmark directive dated 5-5-2010 of Hon'ble Supreme Court in WP(C) 196/2001. The State government, in its affidavit filed in that case, had assured the Hon'ble Court that it would fully comply with that directive. Till date, the State is still dragging its feet in falling in line with that directive fully. As such, it is a matter of shame and a serious illegality on the part of the State government to have offered incentives to beggars to stay away from the Pushkarams. In a way, this amounts to an outright contempt of the court order cited above.
Beggars are citizens like any one of us. Many of them have no alternative other than begging, as they are diseased, aged, handicapped, abandoned by their own children and so on. Though there are laws in existence, it is the State's dismal failure to enforce those laws meant to safeguard such persons that has created space for beggary. To feel that beggars are not welcome at the Pushkaram ghats, where pilgrims often offer them alms and eatables, is to violate their human rights and hurt their pride and dignity.
Beggars in the State are to be usually seen at religious places, hotels, railway and bus stations etc. The presence of beggars in towns and cities is a sad reflection on the policies of the government. Instead of addressing the root cause of beggary, the State apparently wants to hide it in its unfortunate ostrich approach to the societal problems.
Finally, Dr Sarma said it was the CM's entourage that blocked the flow of pilgrim rush at the Ghats that resulted in an unprecedented stampede and loss of a large number of innocent lives. The Chief Minister'scontinued to stay at Rajahmundry, receiving foreign delegations, placing intense pressure on the local security personnel, the traffic and the utility services at the expense of the ordinary pilgrim and the ordinary resident of the town. He conveyed his views to the government of Andhra Pradesh by writing a letter.