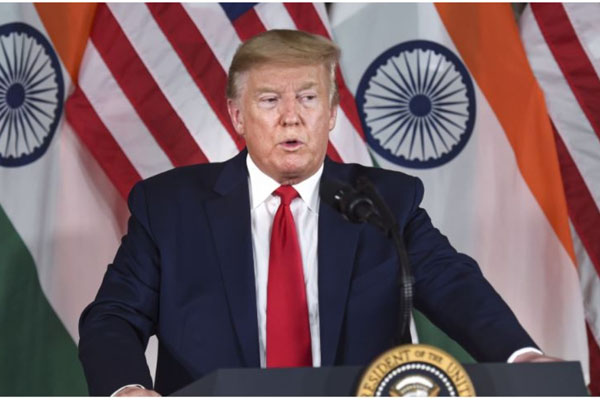 US President Donald Trump on Tuesday again offered to mediate between India and Pakistan on the Kashmir issue.
Addressing a press conference on Day 2 of his two-day state visit to India, Trump said, "Anything I can do to mediate or help, I would do."
Bringing in Pakistan's reference, he said, "They (Pakistan) are working on Kashmir. Kashmir has been a thorn in lots of people's sides for a long time. There are two sides to every story. We discussed terrorism at length today."
Earlier, Foreign Secretary Harsh Vardhan Shringla said, "Discussion was centred on positive developments in Jammu & Kashmir. Things are moving in the right direction."
Soon after the abrogation of Article 370 that granted special status to the erstwhile state of Jammu and Kashmir in August last year, Trump had offered to mediate the "explosive" situation in Kashmir amid mounting international concern over a flare-up in violence between India and Pakistan.
Trump had told reporters at the White House on August 21 last year: "Kashmir is a very complicated place. You have the Hindus, and you have the Muslims, and I wouldn't say they get along so great. And that's what you have right now.
"Kashmir is a very tough situation, and this has been going on for decades, and decades; shooting, and I don't mean shooting like shooting a rifle, but major shooting of howitzers, of heavy arms, and this has been going on for a long, long period of time.
"And I think we're helping the situation, but there's tremendous problems between the two countries. And I will do the best I can to mediate or do something."
Again in January this year on the sidelines of the World Economic Forum in Davos, Trump had repeated his mediation offer at an interaction with the press ahead of his meeting with Pakistan Prime Minister Imran Khan.
"We will discuss the situation in Kashmir. We can meditate on the issue. If we can help, we certainly will be helping. We have been watching that and following it very very closely," he had said.
On both the occasions, the Indian Ministry of External Affairs had rejected the US President's offer, saying, "Kashmir is a bilateral issue and will have to be solved bilaterally."