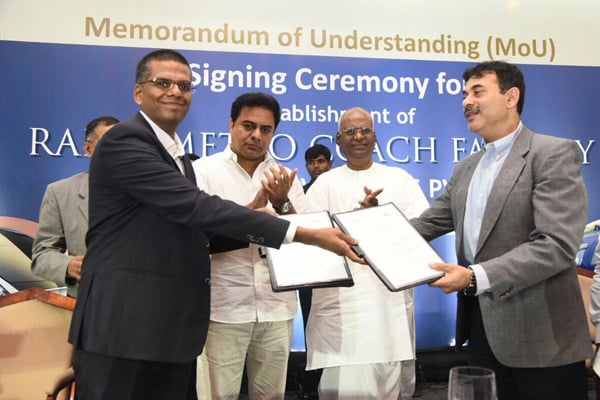 Vexed with the lack of response from the Central government on Rail Coach Factory, the Telangana state government entered into a memorandum of understanding (MoU) with Medha Servo Drivers on Friday.
The rail coach factory will be setup near Kondakal of Sangareddy district with an investment of Rs 800 Crore. It will create direct and indirect employment to 2000 people. The unit which will be setup with a strategic foreign collaborator, has been allocated 100acres land through TSIIC.
As per the Thirteen schedule of Andhra Pradesh Reorganisation Act 2014, "The Indian Railways shall, within six months from the appointed day, examine the feasibility of establishing a Rail Coach Factory in the successor State of Telangana and improve rail connectivity in the State and take an expeditious decision thereon"
However, there has been no noticeable positive response from Central Government on the issue, despite repeated reminders from Chief Minister K Chandrashekar Rao himself.
Medha Servo Drives is currently the largest Propulsion equipment supplier to Indian Railways based out of Telangana. KTR hoped that the project will materialize soon and believes that within 2years this will be complete.