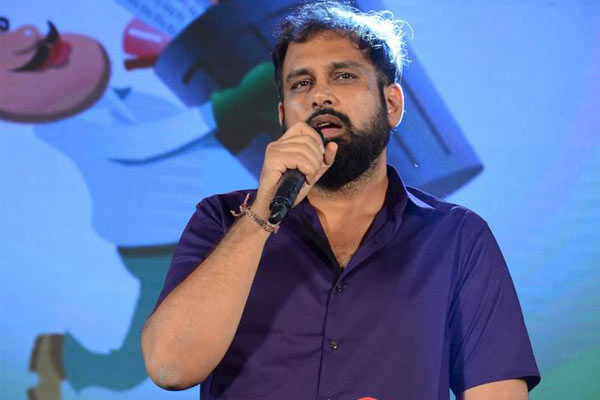 Vakkantham Vamsi – industry is curiously waiting to see his output in Naa Peru Surya movie. He has been in industry for more than 2 decades now. He started his career as news reader in ETV news program "Andhravani". Later he tried to test his luck as hero and it is Dasari Narayana Rao who introduced him as hero to Tollywood. The movie titled "Kalyana Praptirastu" had also introduced now famous anchor Suma as heroine. She was paired with other hero of the movie. But that movie was a disaster.
Later Vamsi tried to get few more movies as hero and director EVV announced he will be making a full length comedy movie with several small heroes and it will be titled as "Thotti Gang" and it will be his biggest comedy movie in his career. He also tole Vamshi will be one of the heroes in that movie. Unfortunately the movie could not take-off and later EVV used that title for another story he made with his son Allari Naresh and PrabhuDeva. During this period Vamshi was with EVV and he even played a guest role in EVV-Bala Krishna movie "Goppinti Alludu". But this movie didn't help him anyway.
Then, it seems Vamsi decided to test his luck as writer and the first movie that showed his name as story writer is "Prema Kosam" and it is with this movie 'Lux papa' Asha Saini made her debut. This movie also a dud and most of Vamshi's stories bit the dust until he joined director Surender Reddy. Then his stories – Ashok, Athidhi, Kick, Race gurram -all with Surender Reddy as director made him a star writer. His stories with other directors – Yevadu and Temper were super duper hits.
While working as writer, like many other writers, he dreamt of becoming director and wrote a powerful script for his debut keeping NTR in mind, with whom he earlier worked for Ashok and Oosaravelli. That was "Temper" story. However, NTR asked him to give that story for his film with Puri as the story they locked initially for that Puri-NTR movie was not shaping up well. Though Vamsi hesitated to sell that story as he kept it aside for years for his directorial debut, he finally gave it as it was requested by NTR himself and as NTR was going through lean phase that time. It is rumored that -at that time NTR assured him of giving him directorial debut chance later. That movie – "Temper" not only brought NTR back on to track but also brought him accolades. Vamsi is paid heftily for this movie as writer by producer Bandla Ganesh.
Later, Vamsi penned another story keeping in mind NTR but it seems NTR didn't like the story and so he could not give him the chance. NTR became so cautious after Temper and Janatha Garrage and didn't want to lose the track again at any cost. Vamsi met Allu Arjun later and narrated NPS story – no one is sure whether this is the story he narrated to NTR or not – but Allu Arjun accepted the story and gave Vamshi the chance of director. Vamshi revealed, he never made even single shot with mobile too. He only wrote scripts but never worked as assistant director too. But somehow Bunny believed him and gave him opportunity.
Whether Vamsi will live up to the expectations or not will be known on 4th May i.e. the day of NPS release. Incidentally, it is birthday of director Dasari Narayana Rao. It is interesting to see this link – Vamsi made his debut in 1996 as hero in the direction of Dasari and 22 years later, his directorial debut movie is releasing on the birthday of Dasari!!!
-ZURAN