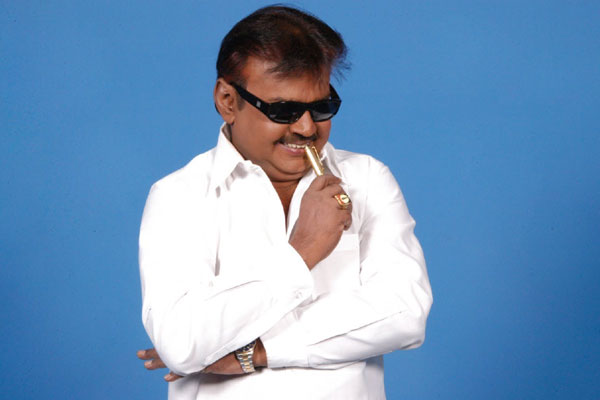 There was a funny scene that happened during Modi's visit to Tamilnadu recently. Ruling ADMK party officially joined NDA and it also pulled some other smaller parties like PMK into NDA. But Vijaykanth's joining into their group was not yet finalized by that time and the discussions were still going on. So just before Modi meeting, AIADMK cadres have erected flexis and banners of all other leaders of Tamilnadu who already joined into their alliance.
The funny part of this was that, they have kept a few empty flexis here and there so that if ongoing discussions with Vijaykanth fructify, they can quickly paste his photo over those empty flexis. Even in the banner photos that has Modi, AIADMK leaders and PMK Ramaswany, they had some 'gap' within the photo for same reason.This made Vijayakanth a laughing stock in Tamil Nadu politics. Not only this, but there were some other developments that happened in past couple of weeks completely exposing Vijayakanth's confusion state in Tamil Nadu politics.
Vijaykanth's politics from 2005 to 2016:
Vijaykanth formed Desiya Murpokku Dravida Kazhagam (DMDK) party in Tamil Nadu in 2005 in Madurai. His party contested in all seats in 2006 assembly elections but won only one seat that was contested by him. But DMDK garnering 10% of the vote bank in next Lok Sabha election surprised analysts and parties. So, Jayalalitha didn't want votes splitting of Vijaykanth to affect her prospects in the 2011 election and formed an alliance with him. Vijaykanth's party contested in 41 constituencies and won 29 of the 41 seats, which is more than DMK. He didn't join government and became opposition leader. In 2016, DMK wanted to ally with him and offered him 55 seats, which is more than what AIADMK offered in previous elections, 4 ministries after forming government and Deputy CM. But for some reasons, he contested alone. His health was not well and he was always in inebriated conditions during his meetings and he lost his reputation as well as the 2017 elections.
2019 – Comedy starts:
AIADMK wanted to have him in NDA but he did not finalize discussions and kept on asking for more seats. They were ready to give him 4 MP seats but he was asking for 7 MP seats. As vijaykanth did not finalise discussions , AIADMK joined hands with PMK, another small party that has strong clout in some areas like Dharmapuri and some communities like Vanniyar. PMK was assured of 7 MP seats and 1 Rajya Sabha ticket. After seeing this, vijayakanth also started asking for 1 rajya Sabha seat in addition 7 MP seats, which AIADMK cannot accommodate.
Discussions with DMK, another comedy
Meanwhile, Vijayakanth brother-in-law Sudheesh announced , just to pressurize AIADMK, that DMK is also in touch with them and negotiating with them for an alliance. But DMK leaders quickly condemned that they have no intention of pulling Vijaykanth into their group, and this put DMDK in a very embarrassing position. Comedy did not end there. Sudheesh called a DMK leader and expressed his intention to join with DMK and he assured to take that matter to the notice of Stalin. The next day media asked that DMK leader about this. He told, he did call Stalin to discuss this, but as Stalin was sleeping at that time, he did not want to disturb his sleep for this UNIMPORTANT matter. At another point of time, both AIADMK and DMK leaders told that Vijayakanth is asking for money as well to spend in elections, in addition to MP seats , and that's why the discussions with Vijaykanth are not progressing.
Overall:
Vijayakanth had more than 5% of vote bank until previous assembly elections of Tamilnadu. More than that , he had a good respect among people. But now he lost both his vote bank as well as the respect among people. We will have to wait and see if he bounces back.