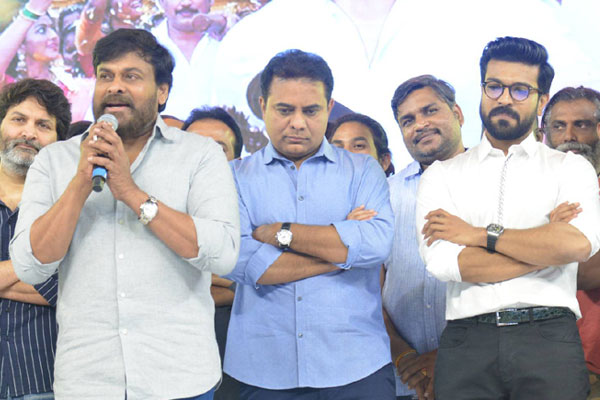 Lion will not hunt daily, Trivikram's allegory on Charan
Maatala Maantrikudu Trivikram gave an interesting speech at pre-release function of Vinaya Vidheya Rama movie. He was one of the chief guests at the function.
Trivikram told, he liked the title very much, Rama was indeed humble towards his mother, and modest towards his father, he said. But he was also very ferocious at his enemies, he added. Then he spoke very high about Chiranjeevi and called him the last matinee idol because now most of the theatres turned multiplexes.He went on to say, it is difficult to talk about Telugu cinema or even south Indian cinema without mentioning Chiranjeevi. He told, Chiranjeevi influenced him a lot during his college days. He added, a story in a magazine that said Chiranjeevi was highest paid actor in India, strongly inspired him into movies.
Later he spoke very high about Charan's Rangasthalam movie and told the movie changed thought process of many film makers. He finally told an allegory and said, usually Lion wont go for hunting every day like other animals. It hunts only once in a 10-12 days span when it feels very hungry. But that hunting will be very 'solid' and the left-overs of his meal will suffice for small animals like fox etc for several days, he added. He compared this allegory with Ram Charan's movies as he is not doing any and every movie and being very cautious about his stories and movies.
Trivikram's magical words brought cheer to the masses and satisfaction to the class audience.
VVR will be gang-leader like mass entertainer: Chiranjeevi
Mega star Chiranjeevi, chief guest at Vinaya Vidheya Rama (VVR) pre-release function, told this movie will be a mass entertainer like Gang leader. He was confident that this is the right movie after rustic and raw Rangasthalam.
Chianjeevi spoke very high about another chief guest KTR and called him his bench-mate, It is to be noted that both were elected as MLAs for the first time in 2009 and both were bench-mates at assembly in united AP. Chiru recalled those days and told, KTR always looked very soft and humble in assembly those days like Vinaya Vidheya Rama. But, Chiranjeevi added, he is not only soft but also very ferocious for his opponents as was seen during recent Telangana elections. He also called KTR is daring-dashing and dynamic leader.
Chiranjeevi thanked audience for accepting him after a long gap of 9 years and giving him stupendous success like Khaidhi 150. Then he talked about VVR. He revealed that after family drama of Govindhudu Andarivade, contemporary thriller like Dhruva, and rustic and raw entertainer Rangasthalam, it was the conscious decision of him and Charan to do a mass entertainer. Then, almost at the same time Boyapati narrated this subject, which was liked by both Chiranjeevi and Charan. Chiranjeevi told, in this movie Ram Charan will be doing the role of a protector and savoir of the family similar to his role in Gang leader. Chiranjeevi added, other than this, there are no other similarities between the stories of Gang leader and VVR.
He finally hoped, this movie will be definitely a good commercial entertainer to watch during the festive season of Pongal.