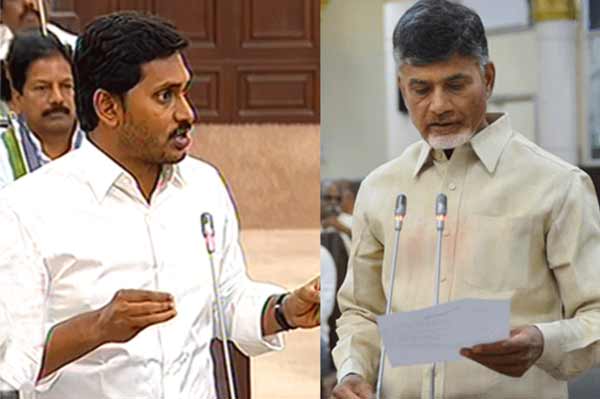 Chief minister Naidu lost his cool while making a statement on Call Money today in Assembly. In an attempt to obstruct the CM's statement, Opposition YSRC members tried to enter the well raising slogans and some even tried to rush towards CM's seat. This infuriated Naidu, who thinks that it is incumbent upon the Opposition to sit in silence when he rises to speak. But, Opposition is Opposition, its strategy is always to hijack the house to its point of view. Upset over their behavior Naidu called them bazaar rowdies. " You are behaving like bazaar rowdies" he said. He shouted at them for their " Assembly rowdiism".
2 YSR Congress MLAs today jumped the fence to reach out the statue of Dr Amdebkar in the Assembly premises. The MLAs wanted to clean the statue in protest against the government's attempt to use Dr Ambedka as a ploy to postpone discussion on Call Money. The staff of Assembly locked the gate to prevent the MLAs from reaching the statue stating that they had no permission. Finally, the MLA jumped the fence and dusted off the statue which they said was lying in a state of neglect.
3 Legislative Affairs minister Yanamala Ramakrishnudu said he had not seen any opposition leader as unruly as that of Jagan in his 34-year political career. Jagan activities hadn't had approval of his own party MLAs. " See their faces, they look lifeless. Because, they are not able to digest what Jagan was doing in the Assembly," Yanamala said.
4 Today, BJP MLA Vishnukumar Raju defended the chief minister more than the members of the TDP do. Strongly objecting to Jagan's repeated reference to CM Chandrababu Naidu and his son Lokesh Naidu as accomplices in call money case, he said it was unethical. He asked Jagan to withdraw the references. He also urged speaker Kodela to expunge the remarks from the records. He even threatened the opposition that he would finish them in two minutes.
5 Speaker Kodela advised the YSRCP members to come to the House after studying the rules of the Assembly well. He suggested this when YSRC members raised slogans while leader of the House Chandrababu Naidu was on his legs to make as important a statement as Call Money. The members are supposed not to disturb the speech of the leader of the House, he said.
6 TDP MLA V Anita said YSRCP MLA K Roja deserved a punishment of at least one year for using abusive language against chief minister Chandrababu Naidu in the Assembly. The language used by Roja ill behoves a woman MLA, Anita said.It's not clear what Roja said exactly. Roja on the other hand denied having used any abusive language against the CM. " I only asked them what if your sisters and mothers are caught up in the call money case. I raised slogans like CM down down. I didn't do anything more than this in the House," she said.
7 Giddi Eswari, Paderu MLA from YSRC, is expected to attend the Assembly from tomorrow. She has been at large following the case booked against for her remarks against chief minister Chandrababu Naidu. In a public meeting organized at Chintappli some time back, she warned that CM's head would be chopped of if he allowed bauxite mining from Agency. Police booked a case against her. She had avoiding the arrest. Finally, today High Court granted her bail.
8 Gorantla Butchaiah Chowdary called Opposition leader Jagan a 'mental case'. Later legislative affairs minister Ramakrishnudu said he was getting sick because of Jagan's mental disorder. He said he was not able to understand what Jagan was talking.