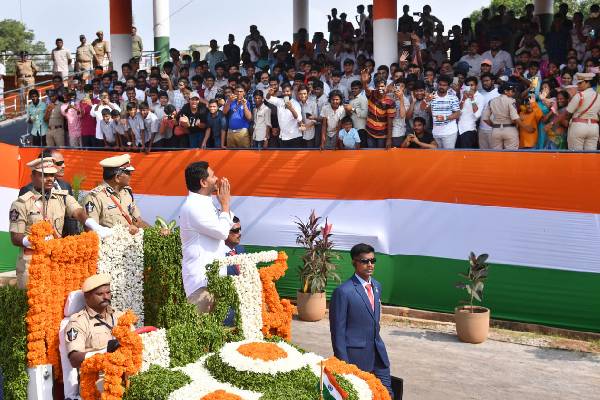 AP Chief Minister YS Jagan Mohan Reddy has asserted that social justice has become a reality in the State besides empowerment of weaker sections and rolling out of welfare measures with transparency.
In his Independence Day address at the Indira Gandhi Stadium on Tuesday, after hoisting the national flag and taking salute, the Chief Minister listed out welfare and development achievements of the government.
He said that the Government has been striving to usher in Grama Swaraj visualized by Mahatma Gandhi by changing the face of agriculture, industry and services.
Andhra Pradesh is the only state that has brought in major changes in the rural administrative system through 15,000 village and ward secretariats, digital libraries, RBKs and the volunteer system to extend quick civic services to the people in full transparency, he said.
The changes have helped reverse the decades-old corrupt administrative system and Rs. 2,31,000 crore has been transferred through DBT in the last 50 months in full transparency.
The Government has also displayed its commitment to decentralization of administration by increasing the number of districts to 26 from 13 to fulfill the wishes of three regions of the State.
The Chief Minister said that the Government has been waging a war on untouchability which has assumed new garb.
"Opposition to introduction of English medium in schools, allotment of house sites, and construction of houses for the poor is also untouchability. The war will continue till justice is done," he said. Implementation of a slew of welfare schemes as part of Navaratnalu has proved that social justice could be a reality.
The Chief Minister listed out the changes brought in AP in six sectors after YSRCP came to power.
The Chief Minister said that AP is the only state which has enacted a law to reserve 50 % of the nominated posts and contracts to SCs, STs, BCs and minorities for rendering social justice to the weaker sections.
On the industrial front also, the State is marching ahead by standing first in the country in the ease of doing business (EoDB), attracting Rs.13, 42,000 crore investments in the global investors meet at Visakhapatnam, he said, adding that 127 heavy industries were established in AP in the last four years with Rs. 67,196 crore investment providing employment to 84, 607 persons.
The Chief Minister gave away police medals to several IPS and other police officials for extending meritorious services in discharge of duties.