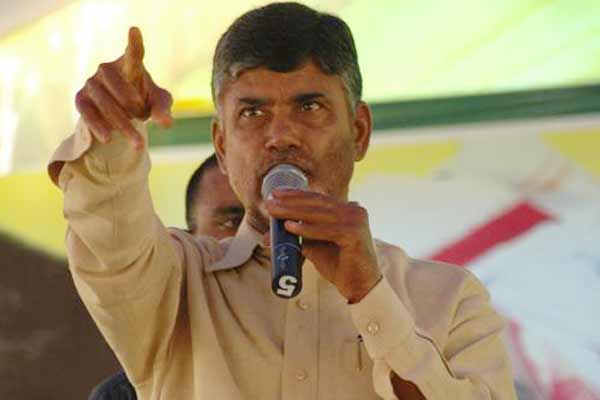 Chandrababu Naidu spoke in an assertive tone in front of media after taking stock of the situation consequent upon the Kapu reservation agitation at Tuni on Sunday night.
He openly admitted that he did not expect that the agitation would take such a swift and sudden violent turn and torching of a train, police stations and squatting on the National Highway. He further said none had anticipated this. What he expected was a backlash from other communities, which actually is too early. He has yet to wait for that.
By his own logic, there is no clue even to the intelligence department on the turn of events. It couldn't gauge the pulse of agitators. The intelligence chief A B Venkateswara Rao, who had served as the Superintendent of Police of East Godavari district, the epicentre of the agitation, personally knows Mudragada Padmanabham and his impulsive reactions and also actions.
Well the intent is not to highlight the failure of ABV Rao.
Naidu threw the entire blame on Leader of the Opposition YS Jaganmohan Reddy for the incident and had called him names saying he was behind the ugly scenes. Naidu's team of cronies bleated as usual : "Babu is great and Jagan is bad", exactly akin to those which break into singing "four legs are good, two legs are bad" whenever the new leadership was questioned in Orwell's Animal Farm. If Kapu leaders of Jagan's party joined hands with Padmanabham, they have an agenda. And, of course, political agenda. What's wrong with that?
If it's not for deriving political mileage, what prompted Chandrababu Naidu to appease Pawan Kalyan and get him on to supporting the TDP-BJP combine in 2014 elections and promising reservations to Kapus?
When he had promised that he would give reservations to Kapus, doesn't Naidu know the possibilities of whether such an inclusion stand legal scrutiny or not? As the man behind giving 44 per cent reservations to Backward Classes and as the one who helped NTR handle the situation in 1986 and as the one who had the GO 30 issued by the then Kotla Vijayabhaskara Reddy regime on Kapu reservations challenged in the court of law, doesn't Chandrababu Naidu know the outcome of such decisions?
Has he promised reservations without factoring in all these constraints? When he asked as to why didn't Jagan's father give reservations to Kapus during his regime as the Chief minister, one question that crosses everyone's mind is why hadn't Naidu, as the Leader of the Opposition, demanded that YSR Government give reservations to Kapus? He, on the other hand, said that he had not promised these reservations earlier, but did in 204.
Well, now Jagan is being squarely held responsible for the criminal acts at the agitation site. This charge came from TDP Ministers Yanamala Ramakrishnudu and Home Minister Nimmakayala Chinnarajappa, apart from the Chief Minister himself.
The ministers alleged that Jagan was scheming this for two months and that he had sent 1,000 miscreants to create the ruckus. The TDP has this rumbustious lot to paint its detractors black.
But if the ministers were so sure that Jagan was scheming these attacks for two months, what were they doing? Have they come to know about his sending 1,000 miscreants only after the violence erupted at Tuni?
Camouflaging their own weaknesses or failures by raising pointers at the opposition doesn't make any sense. However, the TDP with its media support and by garnering sympathy from the voice bytes of stranded and suffering passengers in railway stations and national highway tried to wash its hands off the precipitated situation.
But, it's only a conjecture of time before the TDP, which promised reservations for Kapus, ensures that without any backlash from the existing BCs and of course the law. Already, BC leader and TDP's own R Krishnaiah, MLA from L B Nagar, criticised the demand of Kapus and opposed their inclusion in the BC list. Is Jagan behind this too?
Telugu360 is always open for the best and bright journalists. If you are interested in full-time or freelance, email us at
Krishna@telugu360.com