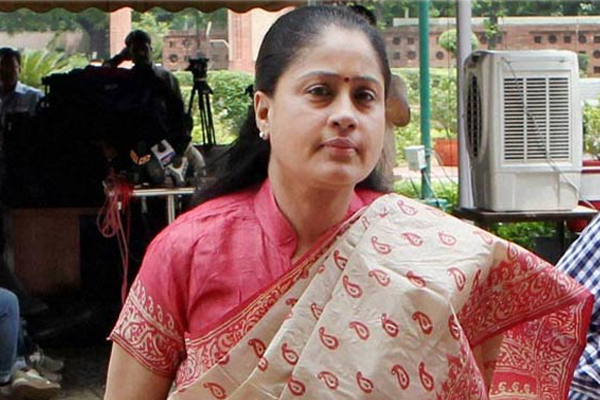 Under KCR family's rule, the Telangana people have faced troubles and tragedies quite similar to those of main character Ramulamma in the film "Osey Ramulamma".
These are the words of Congress party's star campaigner and actress Vijayashanti who kicked off her electioneering after offering puja at the famous Jogulamba Devi Temple at Alampur in Gadwal district on Thursday.
"Osey Ramulamma" was a hugely successful revenge drama in its time two decades ago and the film went on to capture imagination of Telangana's rural masses and held them spellbound for several years. It portrayed an abused rustic bonded labour girl taking revenge against the evil landlord. Vijayashanti played the main role.
Ever since, wherever the star goes, the film legacy goes with her.
Now Vijayashanti likened the situation of Telangana people to that of Ramulamma to apparently make KCR and family look like villains of 2019 elections. In her speeches, she also deplored that the rule of 'exploitating Doras' (KCR's community) has come back after statehood was achieved.
She lamented that so many sacrifices were made to make Telangana a reality and all this seemed now as if all that had happened for the benefit only one family that is KCR's. As a result, the past days of bonded life and unbearable slavery appeared to have returned as well.
Vijayashanti has mounted this scathing attack on KCR on the very first day of her campaign, which has also taken Mahakutami activists present there by surprise. Recalling her days in TRS, she asked as to why KCR promised to protect her like a sister but later suspended her from the party altogether without giving any reason for that. She said KCR was a leader with no principles and one who will deceive others for no reason.
But analysts are doubtful whether Mahakutami can rise to the occasion and dethrone KCR. He has shown in 2014 how he mesmerised people by claiming all the glory for separate statehood and won while Congress struggled hard despite having granted statehood and simply lost.
A campaign watcher says that it is Vijayashanti who is facing tragedies of Ramulamma in real life considering her film and political career falling on bad days for quite some time.