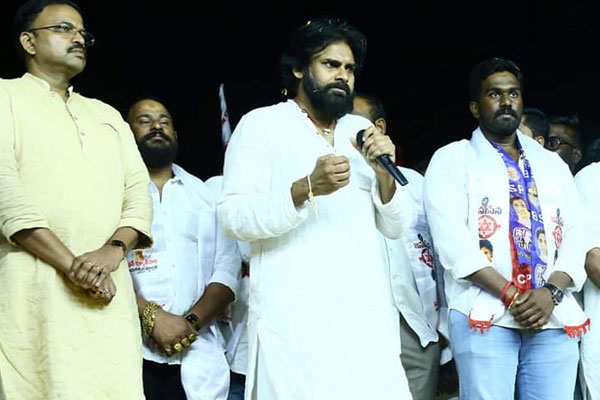 At the time of the Kodi Kathi incident, the YCP leaders including YS Jaganmohan Reddy made a big issue out of this. They even blew it out of proportions by getting NIA's investigation. Why was there no similar response in respect of YS Vivekananda Reddy murder? Why did Jagan remain silent while his party leaders highlighted it as a suicide? asked Pawan Kalyan. It is clear from this that there will be no safety to the people if the state is placed in the hands of a leader who gave scope for so much confusion on a murder in his own close family.
Jana Senani expressed concern over what would happen to the state if those involved in murder politics have a chance to come to power. He wondered how could an opposition leader in a state assembly act and behave so non-responsively over murder within his family.
Pawan Kalyan accused ruling TDP and opposition YCP of ignoring the actual interests of the people but they kept busy in sharing illegal money in contracts and projects. It is evident from the fact how the Opposition party did not fight on behalf of the people in the Assembly in any manner so as to make ruling TDP accountable.
Telugu360 is always open for the best and bright journalists. If you are interested in full-time or freelance, email us at
Krishna@telugu360.com