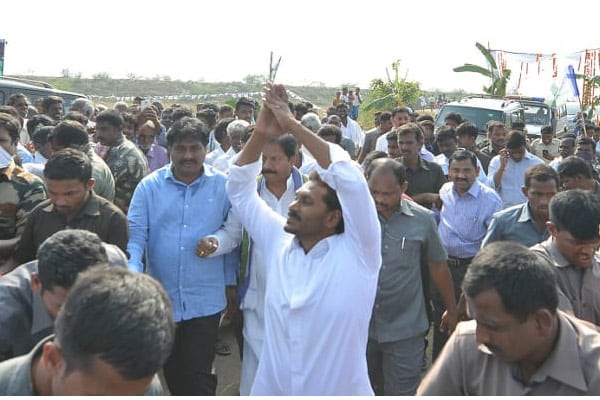 YS Jagan Ready to ally with BJP
YSRCP leader Jagan made sensational comments, during his interview in a national channel today. He told, he is ready to ally with BJP in upcoming 2019 elections but only if central government grants Special Category Status to Andhra Pradesh. He also explained how important special category status is for AP. When asked about his cases, he replied that Congress and TDP colluded and conspired to frame him. He also spoke about vote for note case of Chandra Babu and those in power can get away with any cases in this country.
On importance of Special Category status: He told Banglore, Chennai and Hyderabad have much better infrastructure and it takes AP 60 years to match the infrastructure of these neighbour states without Special Category Status (SCS). He also reminded that the promise of SCS was given on the floor of parliament.
Jagan attempted to attack on Chandrababu's "good administrator" image. He remarked, "Naidu is a big liar. He is saying that GDP rate of AP is over 12 per cent. While India itself is growing at 5-6%, global rate is just 2-3%, how can AP growth be 12% ? His entire governance is a lie".
About cases on him: YS Jagan also tried to explain about cases on him and he also pulled Chandra Babu into the topic by discussing Vote for note case. He told, "I was an honorable man until I left Congress party. Only after I left the party suddenly I became corrupt in their eyes. TDP and congress colluded to frame me into the cases. Yerram Naidu from TDP and Shankar Rao from Congress filed petitions against me. Shankar Rao was made minister later." He pulled Chandra Babu also into the topic by reminding about vote for note cases. Jagan told, "Naidu was caught red-handed, audio taped and video taped distributing black money or unaccounted money but he still did not resign to his CM post. If a common man is caught red handed, videotaped, distributing black money he would be facing severe punishment. But the plight of our country is that those in power, like Chandra Babu can get away with any cases against them"
On allying with BJP: When the interview asked if he is ready to ally with BJP, he made sort of sensational comments. He told, "If the BJP is ready to grant us special status, we will go with them. The PM can do that in a minute with a stroke of a pen. It is his prerogative," Jagan said. He added, this is not first time we are saying this. Even long back also we told same thing. We don't have any reservations against BJP, but our only reservation is with Special Category Status"
On whether BJP would be interested to join him:Then the interviewer asked, whether BJP would be willing to join hands with YSRCP, and also interviewer added whether BJP will join hands with Raja of DMK, who came out clean recently, and you (Jagan), Raja of corruption, Jagan reiterated he was framed into cases because of a conspiracy. He told in the same interview that Modi, TDP and Pawan Kalyan all put together got just 1.5% more vote share than YSRCP that contested alone.
Finally, when interviewer asked Jagan, what he would do to convince BJP that he is better ally than Chandra Babu, said, "As far as AP is concerned, both Congress and BJP are irrelevant. They have no base here. Our primary target is Chandrababu Naidu's TDP. I am ready to go with the BJP if special status is granted". Jagan added, ordinary people of AP are fed up with Chandra Babu ruling and TDP would be decimated in 2019 Lok Sabha and Assembly polls.